On International Day of Yoga, participants attending Amma's Santa Fe retreat were treated to a special yoga session with Amma.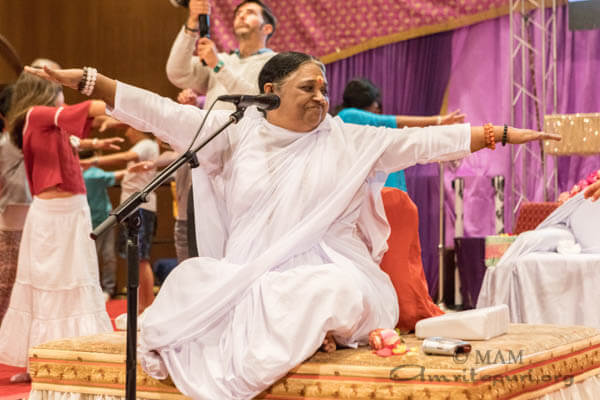 "Yoga is not just physical movement, like going to the gym and exercising," Amma explained. "Rather, it is yet another way to know God, the infinite power we truly are. Yoga is meditation. Just like meditation, performing yoga with awareness will help us go deeper and deeper into our own Inner Self. If physical exercises are like swimming on the surface of the ocean, proper yoga practices are like diving deep into the ocean. The experience has a totally different dimension to it. The difference is like a caged bird versus a bird flying in the sky, enjoying the vast expanse."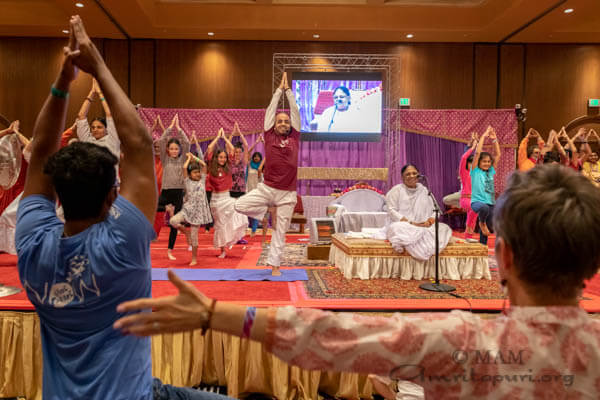 The hall was transformed into a yoga shala as participants were guided through a series of simple asanas that focused on breathing, awareness and heart-centred intention. Many children also shared the stage with Amma to demonstrate the various asanas. At the end of the session, Amma asked everyone to forget all worries and laugh together, creating a blissful moment of unity and happiness.

There was yoga sessions organised in all the MAM centers and Amrita educational institutes all over the country.