16-17 March, Kochi, Kerala – Bharata Yatra 2019
Kochi saw a celebratory tone during Amma's Bramhasthanam programs. On arrival at 6:40pm from Palakkad on March 15, Amma was welcomed by Vedic Chants from students of Tantra Vidyapeetham, Lalita sahasranamam by students of Amrita Vishwa Vidyapeetham and bhajans by devotees. Looking at the crowd from the verandah, she showered flower petals on thousands who had come to see her arrive for the 2-day festival at Ernakulam.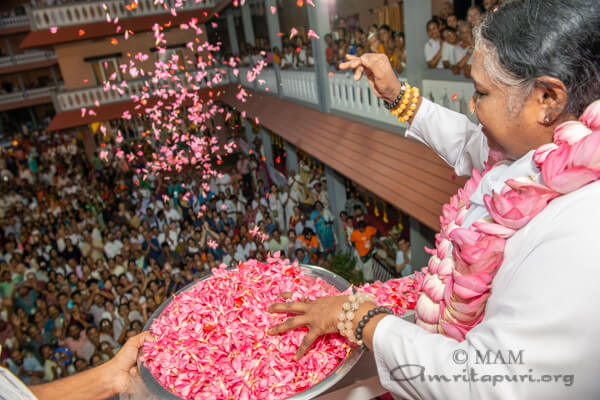 Amma served dinner to everyone present including those of the tour group and local volunteers after leading them in Meditation & Bhajans.
The first day started off with a public program. Among the guests on stage, Justice PR Raman, Ombudsman, Devaswom board, said Amma's service is uplifting many who come to see her. Justice Mohandas of human rights commission spoke of Amma's clean drinking water project as tackling humanity's most primary needs and requested everyone to follow the good deeds and example set by Amma. Under Jivamritam clean drinking water project, 3 more units were handed over to communities in Ernakulam area. 50 people living around Amrita Hospital were given 'Health Care Cards' by which they will be getting special benefits for treatment from the hospital.
Satsang, Bhajan and meditation were led by Amma before starting each day's Darshan.
Second day program on the 17th also started with a public event and guests on stage included Malayalam film actor, Salim Kumar who spoke of repeated meetings with Amma as a refuel run for his happiness and how Amma helped him at times of illness and personal difficulty. Advocate Govind K Bharathan, Senior Central Government Standing Counsel in the High Court, a guest on stage, spoke of his first meeting of Amma 35 years ago.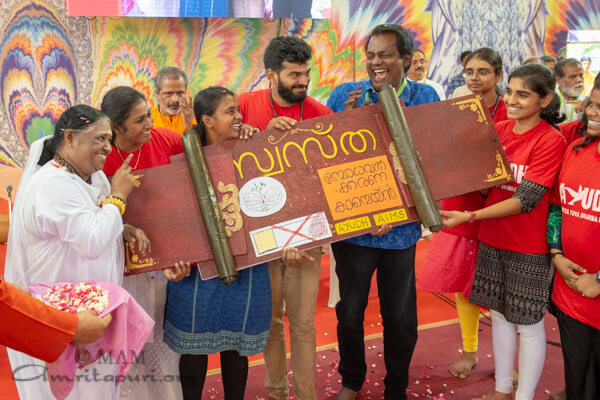 During the public program, Amma distributed plants to AYUDH youth members as part of an ongoing campaign with the theme "Nalpamaram Natinnu Nalvaram – നാല്പാമരം നാടിന്നു നൽവരം". Anti substance-abuse awareness campaign "Swastha" for students and parents in educational institutions was initiated by AIMS Kochi chapter of AYUDH India. A project "jeeva jalattinnu oru maṇpātraṁ – ജീവജലത്തിന്നു ഒരു മൺപാത്രം " to provide water to birds on earthen plates during hot seasons was also blessed by Amma during the public program.
Speaking on the occasion, addressing the huge gathering in spite of the heavy summer heat, Amma said: "We usually consider someone to be 'great' or 'successful' if they have a big house, wealth, fame and authority. All these will come and go at any time. Conversely, a person who has lost everything in life may suddenly get everything back in the blink of an eye. In reality, none of these things makes us great. What really matters is how much we have been able to positively influence others through our thoughts, words and actions. In how many people have we planted seeds of goodness? How many lives have we enriched with our love and compassion? Has our wisdom and discernment helped to shed the light of the good judgement in others' lives? These are all the attributes of a truly 'great' person. All of these qualities are internal, not external. These are all elements of our true Self. This is our true nature. It can never be destroyed. Everything else in creation can be destroyed. Everything else may be here today and disappear tomorrow or may become someone else's."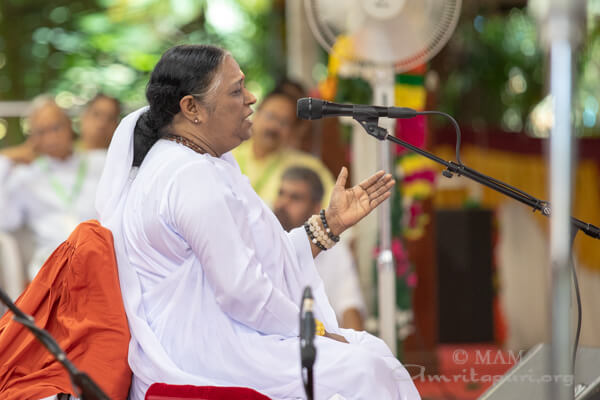 A group of young students from Amrita Institute for the Differently-Abled (AIDA) touched many through their graceful yet delicate dance performance.
Students from Amrita Vishwa Vidyapeetham and Amrita Vidyalayam performed many dances and music as Amma gave Darshan.
At 3:30 am on the next day, as Amma got up from the stage, chants of "Mata Rani Ki" and jubilation reminded that this was also the auspicious ending to the second leg of Amma's Yatra that started at Mysuru on February 18, 2019.
-Kannadi