AYUDH India organized two national level training summits at Amritapuri from 24-31 December 2017- Leaders Training Summit (24-27 December) for youngsters aged 15 to 30 years, followed by Mentors Training Summit (28-31 December) for adults aged 30 to 50 years.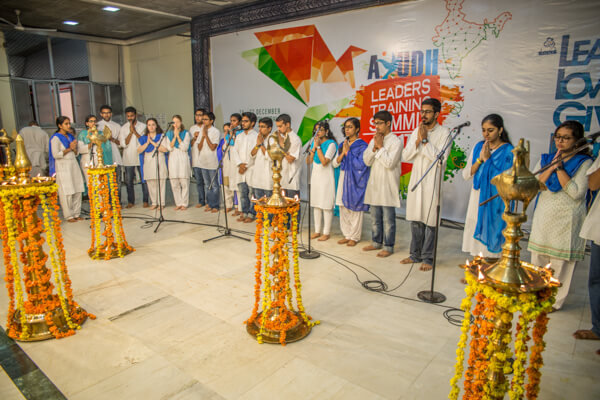 Under the theme 'Learn to love, give and forgive', the summits brought together over 600 aspiring youth leaders & mentors from diverse educational and cultural backgrounds across 22 states of India.
In a grand inauguration ceremony, young AYUDHians dressed up in tri-colours welcomed Amma to the stage by waving Indian and peace flags lengthways starting from the entrance of the bhajan hall. "In order to achieve true success in life, it is very important that one has to be truthful to himself"- said Swami Amritaswarupananda Puri during his inaugural message.
Among the keynote speakers of the Summits were Maj Gen (Dr) GD Bakshi, Mr S Gurumurthy, Dr. N Gopalakrishnan, Dr. Bharat Jayaraman, Dr Kambhampati Subramaniam, Ms Veronika Soboleva, Mr Prasad Deole, and Mr Paul Mathew along with senior monks of Mata Amritanandamayi Math and researchers from Amrita Vishwa Vidyapeetham. Amma's teachings formed the core of the discussions at the summit. The summit gave participants the opportunity to spend time in Amma's presence, learn meditation & yoga, and celebrate Christmas & the New Year with Amma. All the participants were also fortunate to receive Amma's Darshan and blessings.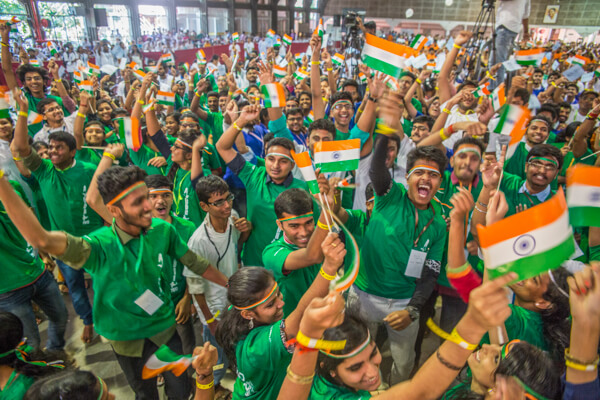 Other highlights included musical performances by Mr Rahul Raj, Mr Palakkad Sriram and the Maati Baani Band. Participants also engaged in fun-filled team building, personality development, and experiential learning activities which taught them essential leadership skills & attitudes. The best part of leadership summit was a special question & answer session with Amma, where participants got a chance to interact and be answered by Amma directly.
The four-day mentors training summit included sessions by experts from different fields, giving an opportunity for the participants to hone their skills in mentoring youngsters, meditation, and effective communication. Participants coming from different walks of life, from scientists to school teachers to engineers, were awe-struck to learn how subtle changes in perception of situations can lead to massive positive changes in their life.
A rappelling session thrilled many participants, helping them understand the need and benefit of getting over their inhibitions and fears in order to become a good role-model to the younger generation.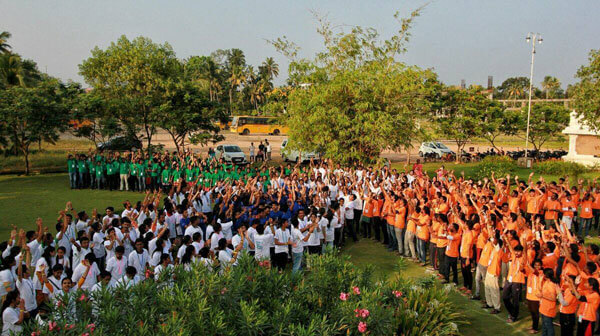 The leaders' summit participants said, "This summit has been successful in changing my life drastically and has surely turned me into a better citizen and human. I thank AYUDH for this wonderful experience." "Such events will really create leaders out of our country's youth. "
In what could be seen as a unique beginning, the young AYUDHians took a pledge together to uphold the Sanatana Dharma principles in their lives and try to serve the nation and Mother Nature in the best possible way, which had a deep resonating effect in all the people present.
AYUDH has been active for more than three decades, in different parts of India, and the summits were an opportunity to bring all AYUDHians from different parts of India under one roof, provide a platform to interact, exchange ideas and visions with fellow AYUDHians, which helped in initiating the meltdown of culture and social barriers among youngsters, in turn helping build a strong framework for a peaceful world.