13-14 Jan, Tiruvananthapuram, Kerala – Bharata Yatra 2018
Amma arrived in Tiruvananthapuram for two days of programs in which thousands of devotees would receive Amma's darshan at the Brahmasthanam festival. Each day, she delivered a Satsang, led a set of bhajans, and guided everyone in a meditation. In her satsang, Amma advised all the devotes, "Earn money to live, don't live to earn money. If we reject our values and center our mind and thoughts only on money, all of our love will be fake. Moreover, we will have a business-like mentality towards everything. Spirituality is not opposed to acquiring wealth or fulfilling desires, that is a misconception. There is nothing wrong with acquiring wealth or fulfilling desires. Spirituality only insists that these be done through righteous means."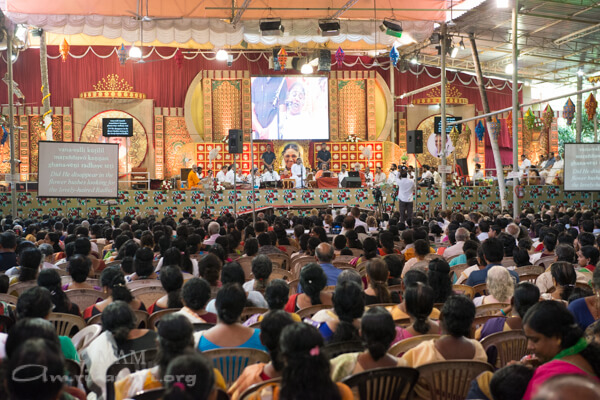 As the day Amma arrived for the Brahmasthanam festival coincided with the birthday of Swami Vivekanada, Amma was welcomed to the stage by a group of children dressed as Swami Vivekanada.
Celebrating her visit to Tiruvanathapuram, Amma dedicated five hundred public toilets to beneficiaries in the district. As well, five panchayats were installed with a special purified water system, "Jivamritam." "Jivamritam" will supply the villagers in the district with purified drinking water in order to help combat the deaths and diseases that occurred over the previous year due to contaminated drinking water.
Working capital was also given to the members of the Amrita-Sree self-help group in the district. O Rajagopal MLA, Aswathi Thirunal Gowri Lakshmi Bayi, and Pooyam Thirunal Gowri Parvathy Bayi were present at the festival, and helped distribute certificates of competition to various welfare program beneficiaries.
Amrita Vidyalayam school children were also present and put on various cultural programs throughout both days of the festival.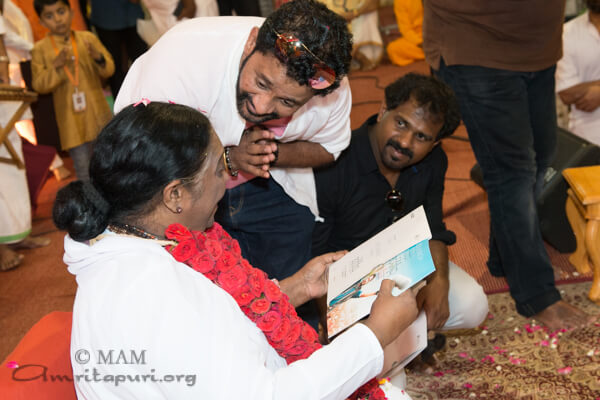 Several ministers, bureaucrats, artists, and scientists came to visit Amma during the two days of darshan and festivities, including Resul Pookkutty, the Oscar-winning, Indian film sound designer, and K Sivan, director of the ISRO. Regarding his visit to the program, Resul said, "I sensed an abundance of love this morning, Oru ammayudey Vatsalyam… (a mother's affection) probably something that I been missing for years after my mother passed away…"
K Sivan who came along with his family said that "every meeting with Amma gives me so much energy and inspiration to live through the whole year." Mr Sivan is best known as the rocket scientist behind India's space launches. Sivan was also the man behind putting 104 satellites into orbit on one mission. Coincidentally, India launched its 100th rocket into the orbit just a few days prior to the Brahmasthanam festival.
After two joyous days of celebration, the Brahmasthanam festival came to a close and Amma headed off to Kayana Kumari for the next program.