4-6 December, Valencia, Spain -Europe Yatra 2017
For the first time ever, Amma visited the city of Valencia, Spain and held three days of programmes there. The programme venue was the famous Pavelló Municipal Font de San Lluís. The venue saw a continuous flow of devotees and newcomers throughout all three days, with the entire stadium packed for Amma's Atma Puja and group prayer for world peace before the Devi Bhava on the third evening. Though it was the first time Amma had come to the region, it turned out to be the biggest Devi Bhava of the entire tour.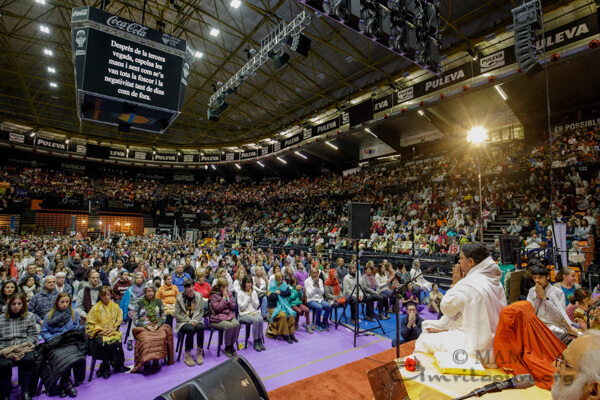 This was the 20th anniversary of Amma visiting Spain each year, and the devotees were well-prepared to celebrate the occasion. At the close of the ceremony, the entire crowd sang a song to Amma. Having rehearsed together before Amma arrived, the crowd sang in perfect harmony, singing "Un sólo amor, un sólo corazón, Amma es la inspiración de todas nuestras vidas…" ("One single love, one single heart, Amma is the inspiration of all of our lives.") Simultaneously, the crowd released a beautiful tapestry of multi-colored heart-shaped balloons to accompany their hymn to Amma and raised their hands from row to row throughout the stadium, creating a human wave of love and gratitude for Amma.
Amma also received a very special welcome to Valencia by representatives of the International Inter-religious Forum, including Rvdo. Padre Vicente Collado (representing Christianity); Cheij Mansur Mota (representing Islam); the Venerable Tenzin Choky (representing Buddhism); and H.H. Swami Rameshwarananda Giri Maharaj (representing Hinduism). The group affirmed their commitment to interfaith dialogue and harmony in the presence of Amma, who has always embodied unity among faiths, saying simply, "My religion is love."
In addressing the crowd, Amma said, "Love is not to be kept hidden in pockets, but must be expressed in action. When we become love, our senses become its bridges. It cannot be defeated by any person's ego. It is the panacea for sorrow, the foundation of all silence. It is the real measure of our success in life."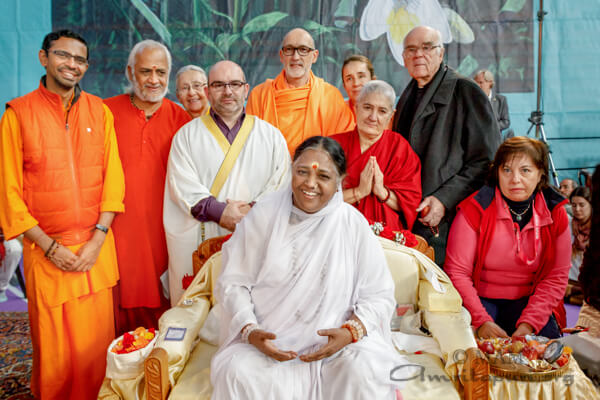 Amma's teachings saw a beautiful manifestation in a very special care package she received. For the past few years, during Amma's visits to Granollers, Spain, a group of prisoners who have been studying Amma's teachings and practicing the IAM Meditation Technique, as well as carrying out service activities and raising funds for local charity groups, spends a day at the program doing seva and comes to Amma for her darshan as well. Every year, they have brought gifts for Amma that they have made themselves to express what Amma means to them. This year, as Amma came to Valencia, they were not able to attend the program, as it is outside the area where they are permitted to travel. Instead, they sent presents with the volunteers who work with them in the prison. This year, they had made thread paintings and a wooden sculpture of Amma's name, carved from wood from a fallen branch of an olive tree in Amma's Spanish ashram. They also sent a basket of quotes of Amma that had touched their heart, from Amma's books which they have been reading and reflecting on in prison. They wrote the quotes on colored pieces of paper and decorated them with flowers. They had wanted to bring the messages to Amma to have them blessed personally, and then to distribute at Amma's program for the devotees there. Since it was not possible for them to come, they sent the basket to Amma. The blessed notes would be returned to the prison where they will share them with their fellow inmates, thus continuing to spread the light of love and compassion and becoming ever more aware of the hidden wealth of love within each of them.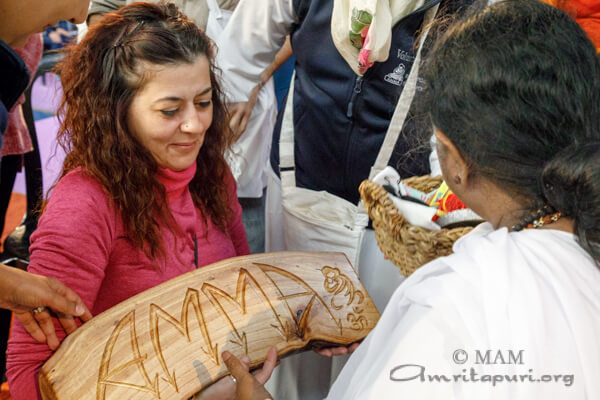 Valencia was the final stop on Amma's 2017 European tour. Thus the end of Devi Bhava, when Amma emerged from the temple in her white dress and gazed lovingly down at all the gathered devotees from Spain and all over the European continent, held a special poignance. As Amma smiled softly at all her children there, one by one, they began to raise their voices in song, Spanish and non-Spanish alike, singing together, singing "Un sólo amor, un sólo corazón, Amma es la inspiración de todas nuestras vidas…" It was a sweet and beautiful coda to mark the end of Amma's tour, and a reminder that despite the fact that Amma was physically going away, the love and inspiration she had imparted to everyone there and throughout her tour would be a guiding force in every moment of their lives, and the lives of all those with whom they share this love.
-Kannadi