1-2 July, Manchester, New Hampshire, America Yatra 2017
Amma held two days of programs at the Radisson Hotel in Manchester, New Hampshire. The hotel is located just 45 minutes from the old Ashram in Temple, NH, where Amma used to hold retreats many years ago.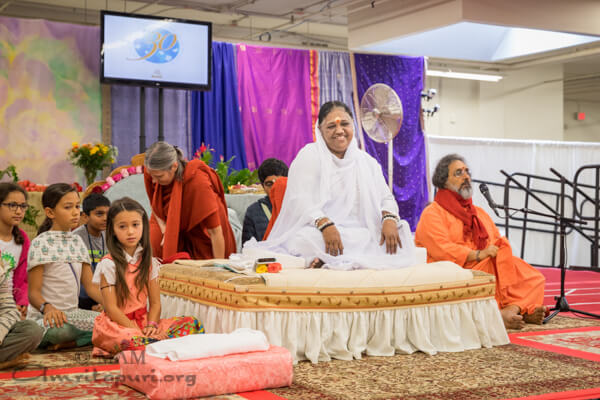 During the program, there were many cultural performances including an African drum ensemble that accompanied dancers in a spirited performance.
Addressing the assembled crowd during the programs, Amma spoke about the true meaning and purpose of life: "Lamenting over our losses in life, we forget the greatest gain of all that we need to attain in this birth – that is love. To make as much profit as possible is the goal of a business person. Thus, the biggest loss one can face in business is to lose all one's capital and become a pauper. In a similar manner, the greatest that one can achieve in life is true love. And the biggest loss that can happen to anyone is the absence of love. One's real life savings is love. If that is lost, one will become a pauper in the truest sense. Therefore, we should try to fill the treasure chest of our hearts with more and more love, reaping the real wealth from this life."
Just before the Devi Bhava puja for World Peace, a special ceremony was held welcoming Amma to North America for the 30th year. Jani (who was instrumental in the development and operations of the old New Hampshire Ashram), spoke briefly, "In 1987, on Guru Purnima, I received a call from a friend saying there is a saint from India holding a program in Boston. I drove two hours that night and saw a small woman sitting in a room. At that moment, I realized that the small woman was larger than the universe, and I have been following her ever since."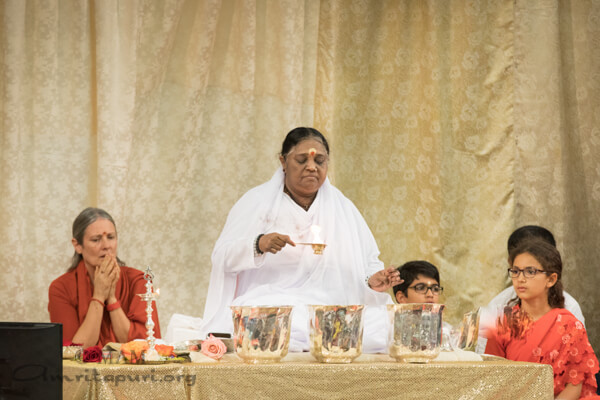 Jaya garlanded Amma on behalf of all those who had first met Amma 30 years ago. Amma then blessed two saplings to be planted at the Boston Ashram.
After Devi Bhava, Amma headed to Washington, D.D. for her next programs.
-Dass