May 31 – June 6,San Ramon, California – USA Yatra 2017
Amma held 4 days of public programs followed by a retreat at her San Ramon, California Ashram in northern California.
The surrounding hills still had touches of green from the spring rains as people descended upon the Ashram to welcome Amma.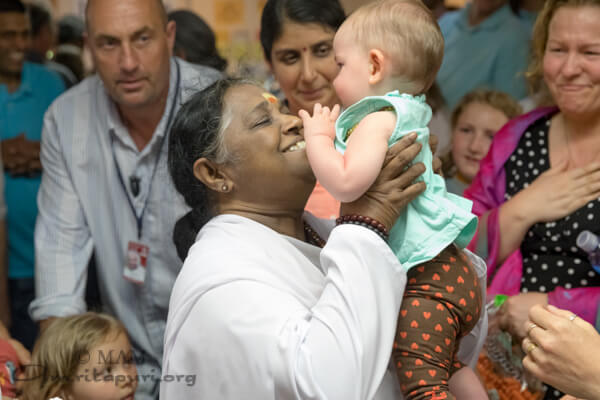 On Devi Bhava, a special ceremony was held to honor Amma's 30th visit to the US.
Ron Gottsegen, MA Center President, whose generosity provided the land for MA Center San Ramon Ashram, and Kusuma Gretchen Venkatesh, who was the main organizer of Amma's first visit to the US, led the ceremony. Ron addressed the gathered crowd noting that, "This year marks the 30th anniversary of Amma coming to North America. It began in 1986 when Amma told her disciples, 'My children are everywhere. They are crying for Amma, but cannot find me. Amma must go to them.' "
Also present were many adults who had been young children when Amma first arrived in the US. Neela Penumarthy spoke on their behalf.
"We feel profound gratitude to be the beneficiaries of the gift of your presence, Amma. You have said many times that your children are your wealth, and we will strive to make your dream—of a loving, more compassionate world—a reality… We sincerely pray that our words and deeds will become an expression of our love for you."
The youth then offered Amma a garland of gratitude that was strung with personal pledges and written messages of appreciation.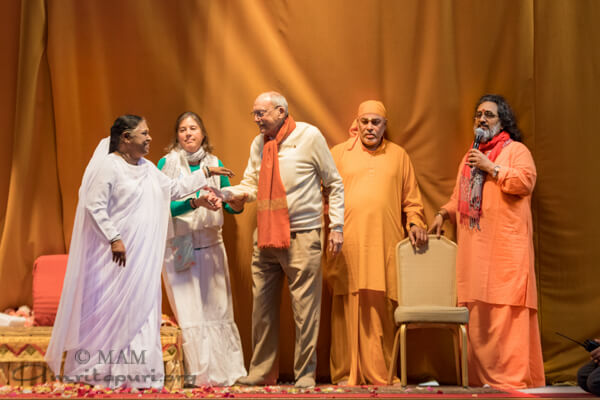 Next, a procession of devotees who had first met Amma 30 years ago offered flowers at her feet. Amma then blessed two saplings that will be planted on the grounds of MA Center in honor of the milestone.
During the retreat, there were numerous cultural performances, including a play in two parts – the first depicted the story of the Tamil Saint Abhirami Pttar, while the second enacted the story of how Devi killed the demons Shumba and Nishumba in the epic battle as recounted in the Devi Mahatmyam.
Children from the Bay Area Amrita Bala Kendra sang bhajans and put on a play about the life of Surdas, the14th century Indian blind saint, poet, and musician.
After San Ramon, Amma left for Los Angeles where the next programs will be held.
-Dass