26-27 April, Kochi, Kerala – Bharata Yatra 2017
After spending most of April touring Malaysia, Singapore and Australia, Amma returned to India and held a two days Brahmasthanam festival in Kochi, Kerala.
Each day, Amma lead everyone in meditation, bhajans and gave satsang. Despite the scorching heat, all the devotees patiently waited hours for Amma's darshan.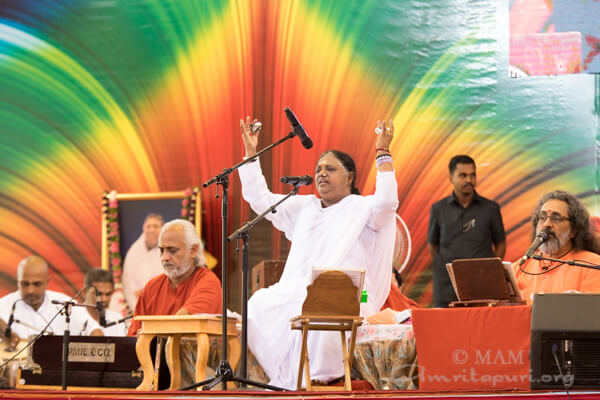 Amma was welcomed to Kochi with Purnakumbham by the priest of the Guruvayoor temple. During the programs, the Working President of the Vishva Hindu Parishad, Pravin Togadia presented Amma with the 'Hindu Ratna Award' , saying the award was a tribute to the 'Mother of the World'.
Saumini Jain, the Mayor of Kochi and the Asha Sanal, the Panchayat President were also among the officials who came to meet Amma.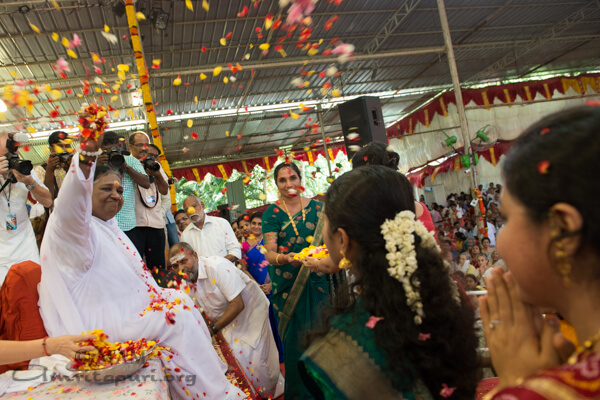 Addressing the devotees Amma said: "Mindless speaking triggers most of the problems in the society these days. Like when water moves beyond its limits, it can harm people, even words have limits. When we cross those limits, they can cause widespread destruction. We should celebrate our life with kind words and good action".
Amma extended her charitable activities in the area by distributing saris to the members of the local AmritaSree selfhelp group.
Local students from Amrita Vidyalayam and Amrita University presented different dance programs and bhajans during Darshan.
Amma concluded the two days program at 5 am on the third day and then proceeded to Trissur for the next stop on the tour.
-Kannadi