13 December 2016, Amritapuri
The Director of CSIR-CIMAP was in Amritapuri to sign an MoU (Memorandum of Understanding) with Amrita SeRVe project of the Mata Amritanandamayi Math. The MoU was signed in Amma's presence by Dr. Anil Tripathi, the Director and Swami Jnanamritananda Puri.
Farmers in the Amrita SeRVe villages will now receive guidance from CSIR-CIMAP scientists in planting medicinal and aromatic plants in their villages.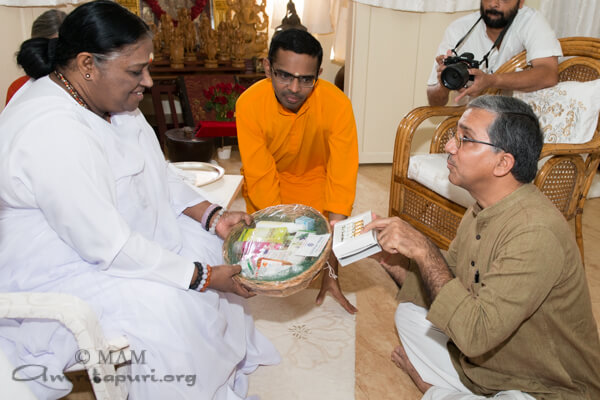 CSIR-CIMAP (Council for Scientific and Industrial Research – Central Institute of Medicinal and Aromatic Plants) is one of India's premier publically funded research institutes. Scientists from these labs work with farmers to make available to them the best varieties of planting material of mint, lemongrass, palmarosa, vetiver, metha, tulsi, geranium, etc. that have several important end-uses. These plants can also bring much better economic returns to farmers.
The famers in these tribal villages own relatively large tracts of land (20-25 acres). But in absence of any experienced mentors who can guide them, giving them the right information about what to plant, what will grow well in those soils, etc. they continue to remain poor.
In Chattisgargh, Ramachandra, 36, is now in the process of forming a farmers group including Patiram Boti, Dudhva Naag, Baman Podiya, Kahru and Mangal Madda to initiate the cultivation of crops that the CIMAP scientists recommend. "Amma is doing more and more for our villages, we are very grateful," he shared.
Farmers in the Amrita SeRVe villages of Telengana, Gujarat and Haryana are also eager to reap the benefits of this collaboration with CSIR-CIMAP. In Telengana, 12 farmers had earlier this year planted green gram, black gram and tuvar dal totally eschewing the use of chemical pesticides and fertilizers. From the harvest, they gifted the best quality seeds to Narsanna Kopulla, a permaculture expert, who trained them.