20 Dec 2016, Amritapuri
Shri. P.P. Chaudhary, Hon'ble Union Minister of State for Electronics and Information Technology and also Law and Justice visited Amrita University, Amritapuri Campus for the valedictory function of RAHA 2016 – Robotics and Automation for Humanitarian Applications.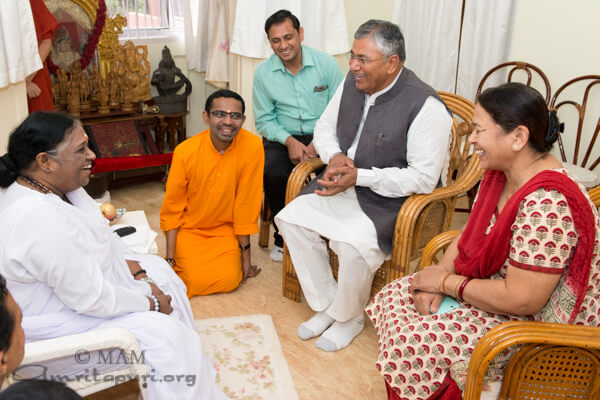 The Hon'ble Minister was the perfect person for this function as his only prayer to Amma was that he become more efficient in his service to society. Amma was delighted when Amma got to know that the Hon'ble Minister had dedicated his salary of many years for providing insurance cover to many poor women.
The Hon'ble Minister wanted Amma's guidance and support in taking technology to the villages so that the gap between the technological "Have's" and "Have Not's" be reduced.
Amma discussed with him how science and technology can be taken to the villages in a practical manner without corrupting and loosing the intrinsic village culture.
-Kannadi