11 – 13 Nov, Milano, Italy – Europe Yatra – 2016
Amma's programs in Italy were held at a packed Malpensa Fiere in Busto Arsizio. The entrance of the venue was beautifully decorated with lights and festoons to show the joy in the hearts of the volunteers who were gathered to welcome Amma to Italy. Up on arrival, as was her custom throughout the tour, Amma served food to all the assembled volunteers. After leading them in the Brahmarpanam prayer, and before taking a bite, Amma surprised and delighted her Italian children with a spontaneous "Buon Appetito!" – meaning "enjoy your meal" Hearing this, the crowd of devotees exclaimed with delight and appreciation.
On all three days, the program hall filled to capacity. Each time Amma entered and left the hall, the crowd erupted in sustained applause and cheers that seemed to never end. The tone had really been set on that first night, and throughout Amma's stay there, Malpensa Fiere became like a festival of joy. It was not an entirely Italian festival – there was a huge contingent from Greece, and in addition to participating fully in the program, they brought a Greek flavor to the event, enthralling the crowd with an offering of their own singing and instrumental performances.
Busto Arsizio Mayor Emanuele Antonelli formally welcomed Amma to Italy and expressed his appreciation for her visiting and supporting the people of Busto Arsizio, saying, "It is an honour for me to welcome Amma to Busto Arsizio. I'm very touched by meeting Amma. In Amma I perceive the sweetness, the grace, the generosity, the spirituality of a really extraordinary woman. Thank you also for the many very important activities Amma carries out and coordinates, and especially for the support she has given to our town, in particular to people with employment problems."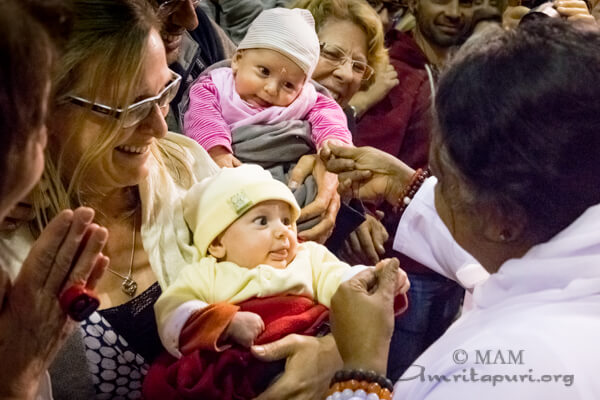 Also during Amma's visit to Italy, a special Memorandum of Understanding was signed between Amrita University and top-ranked Italian University of Trento. In celebrating the MoU, Trento University Professor Maurizio Marchese, "Amrita University and the University of Trento have been collaborating for some years now. During this period of time we have had the lucky opportunity to meet young students, professors and researchers from Amrita University. What really impressed us is the quality level of competence of these young people and above all the enthusiasm of their professors and researchers, as well as what is inspiring them. I would like to remind you here of something Amma said which impressed me very much. 'Action, knowledge and devotion are essential. If action and devotion are like a bird's wings, knowledge is like the tail and its rudder, its direction. Only with the help of the three of them can we manage to take off and fly very high.'"
-Dass