7 – 9 Nov, Toulon, France – Europe Yatra 2016
When Amma arrived at the Omega Zenith arena in Toulon, Southern France on the evening of 6 November, fresh from the end of an all-night Devi Bhava darshan in Barcelona that had stretched deep into the morning of the following day, she was greeted by more than 1,000 volunteers. The volunteers had been hard at work preparing for Amma's program at the Omega Zenith, which would start the following morning.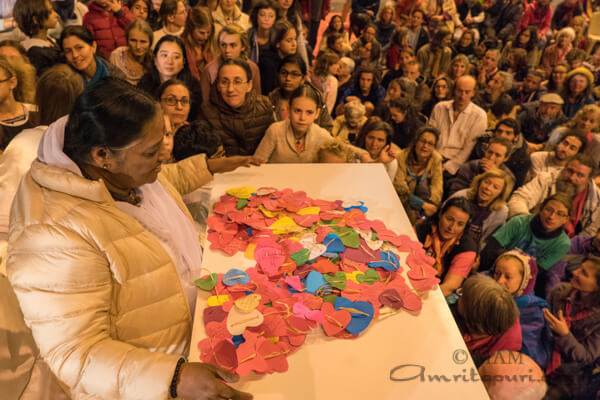 They were eagerly looking forward to receiving a glimpse of Amma as she arrived, but no one expected what happened next – Amma walked right up onto the stage. Despite the hectic pace and long hours of the Barcelona program and the full day of travel, Amma wanted to serve her children a meal. The volunteers were overjoyed, and they had something for Amma as well. Amidst their labors, they had found time to prepare a very special gift. They presented Amma with a garland of paper hearts – each one inscribed with a prayer of gratitude, sharing with Amma their feelings of love and thankfulness for the positive changes and blessings she had brought into their lives. Amma looked through each prayer and held the garland to her heart.
Despite being held on three working days, the Omega Zenith was packed to overflowing on each day, with queues lined up well before the sun rose each morning. The feeling of the crowd was perhaps best captured on the final evening evening program. When Amma arrived on the stage for the final program, just as she was bowing to the assembled crowd, they spontaneously did the wave, back and forth across the stands, and their voices similarly erupted in cheers for Amma's arrival. Looking on, one couldn't help but feel inspired and heartened by this massive outpouring of love and appreciation for Amma and all that she represents – love, peace, compassion, kindness, patience, forgiveness, acceptance, faith. To see that it is still possible in today's world to fill a huge arena with people who want peace in the world and to create peace in their own hearts and the hearts of all they meet is a balm for the soul.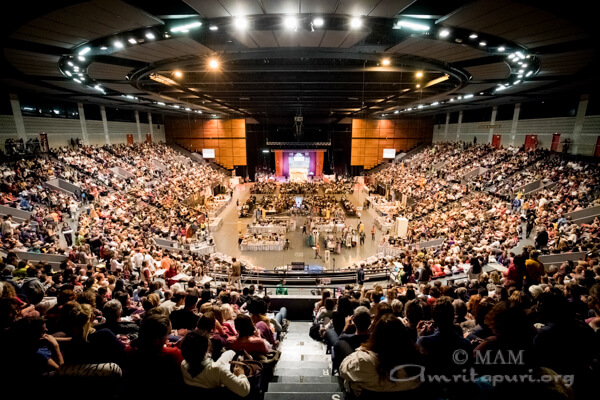 In her talk, Amma reminded the assembled crowd of the importance of caring for the only world we have: "This world is a priceless garden with which God has blessed humankind and other beings. God has provided all the required resources and wealth for all of us to live healthy, happy and peaceful lives. God's only condition was that we should give at least as much as we take. God has given all of us permission and blessings to enjoy and experience as much as we want, but God has also entrusted us with the responsibility of maintaining the beauty and resources of this garden, so we should not damage it." Seeing the crowds that had gathered to receive Amma's love and carry it forward into the world, one was filled with hope that Amma's words would be taken to heart, and that ripples of love and compassion would spread through the garden that is our planet, and that the day would come that its original beauty and harmony is restored.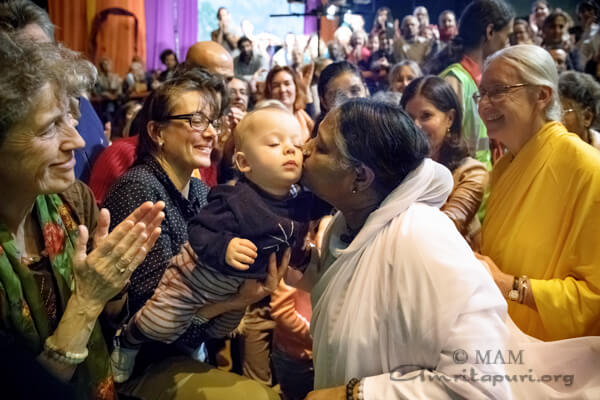 -Dass