14-15 Oct, Dublin, Ireland – Europe Yatra 2016
On Amma's 9th visit to Ireland, she held two days of programs at the Citywest Convention Centre in Dublin. The programs were well attended, with devotees and newcomers from all over Ireland making the trip to Dublin to spend a few precious moments in Amma's arms and to bask in the peace and bliss that naturally attends her presence.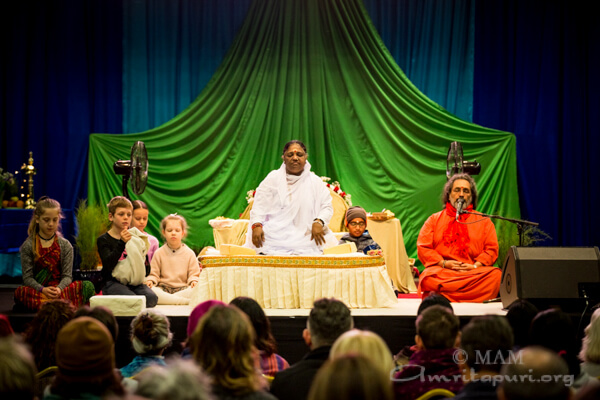 Amma also gave two satsangs over the course of her visit, pointing out worldwide societal trends and she feels need to be addressed if humanity is to have any hope of living in harmony with one another and with Mother Nature. Amma also spoke about the means to find inner peace and to spread peace through our thoughts, words and actions.
On the occasion of Amma's visit, Amma's devotees in Ireland announced a pledge to plant 1,000 trees as a humble effort on their part to live Amma's message of caring for the plant. Amma blessed the first ten saplings and presented them to members of AYUDH and GreenFriends, Amma's grassroots, worldwide environmental movement.
In welcoming Amma to Ireland, Deputy Mayor Genockey reflected, "Amma's work is hugely inspirational. Her work with the homeless, the hungry and those who have suffered from manmade and natural disasters is something to behold."
Councillor Cormac Devlin added: "There isn't a politician in the world who can't take Amma's message and relate that to his or her own locality, or indeed their country. There are many challenges in this world, be they globally or domestically. One quote Amma's in particular that struck a chord with me was this: 'Love is our essence. It has no limitations such as race, religion, nationality or caste. We are all beads strung together on the same thread of love. To spread that love is our inherent nature. This is the true aim of human life.' It really is remarkable to have so many people gathered here this evening and over the weekend, all run by volunteers."
Senator Lynn Ruane praised Amma as a universal symbol of motherhood: "It doesn't matter where you go in the world, 'mother' means more than giving birth. Mothering is a love, a giving, and nurturing and supporting someone who relies on you – whether indefinitely or even momentarily, whether that is an individual person, or a marginalized group as a whole. Mother is a building block for the world around us. She is an educator, a protector, and a teacher of compassion. Mother is a building block of the foundation of life… Amma has devoted her life to easing the suffering of humanity. And I would like to thank you, Amma, for being such a committed, passionate matriarch of humanity."
Senator TD Sean Crowe spoke a few words in Gaelic, the native language of Ireland, meaning: "You bring peace, tranquility and happiness everywhere you go, and I am sure you will bring it here." In releasing the annual AYUDH Summit Commemorative Souvenir, he referenced its core message of peace, saying, "You are all here searching for peace, and I hope you find it tonight.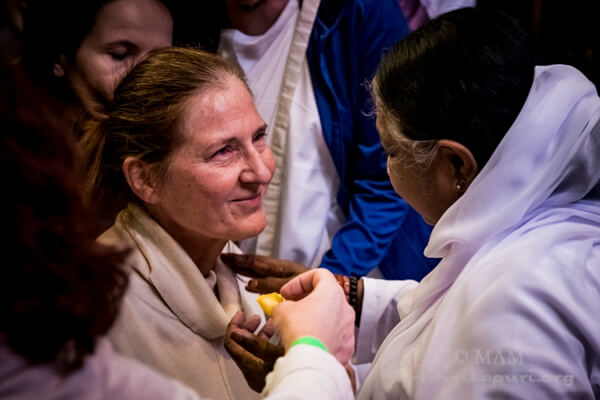 The Chairman of Amma Ireland closed the formal program with a prayer which he said would resonate with the hearts of all of Amma's children in Ireland: "Amma, please visit us every year." This was met with loud cheers and applause by the assembled crowd, who clearly shared in his innocent desire.
During Amma's darshan, there were many local performances. Highlights included spellbinding performances by Kila, hailed as one of Ireland's most innovative and exciting bands, as well as renowned musicians Maighread, Triona Ni Dhomhnaill, Denis O'Hagan, and Donal Lunny. Program attendees also enjoyed the meditative atmosphere created by Vedic chanting by students of John Scottus School, whose voices resonated in unison.
The Citywest Convention Centre reverberated, over the course of those two days, with many languages – Malayalam, Sanskrit, Gaelic, English, and the languages of Europe as people had traveled from all over the continent to be with Amma. But whatever language each one spoke – they also shared a common tongue: the universal language of love.
-Dass