17-19 October, Houten, Holland – Europe Yatra 2016
Amma spent three days at the Expo Houten arena in Houten, Holland as part of her 2016 European tour. Upon her arrival in the Netherlands, Amma was received at the aircraft by Lucia Rijkers, the 7-time world boxing and kickboxing champion and acclaimed actress, and the guards of the Royal Marechaussee.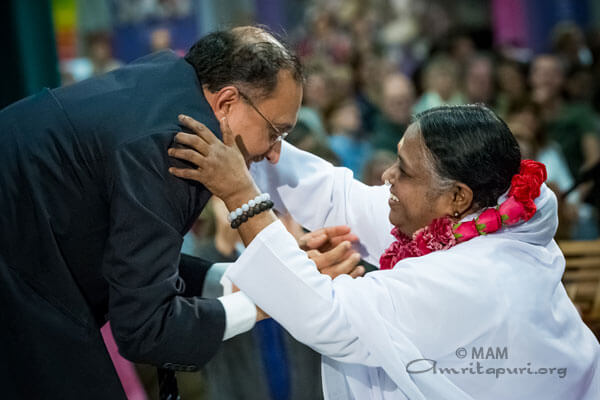 On the second day of programs, a formal program was held, in which Amma was warmly welcomed to the Netherlands by Deputy Mayor Jocko C.H. Rensen from the Council of Houten, J.S. Mukul, Ambassador of India to the Netherlands, and Lucia Rijker.
Deputy Mayor Rensen said: "It's an honor to welcome you to Houten and the Netherlands. Your love and power of personal positivity have influenced and inspired a lot of people in the community of Houten, as well as my family, and myself. The power of your embrace, the story of your life, and the impressive work of your humanitarian projects are inspiring for our way of living, not only for my family, but for me as a city council member. Your visit is a perfect moment for reflection of who we are, and how we are embodying virtues. Thank you for visiting our community."
Ambassador Mukul said: "Amma is a great cultural and humanitarian ambassador of India. The huge gathering we see here today is a testimony to Amma's popularity in the Netherlands." He went on to say that with the new e-Visa offered by India to Dutch citizens, "You don't need to come to the embassy, you can get the visa online to visit Amma," and that there are now 3 direct flights to India from the Netherlands each day – an increase of 200% over last year, "so now it will be much easier for you to visit Amma!" Both announcements were met with great applause and cheers from the assembled crowd.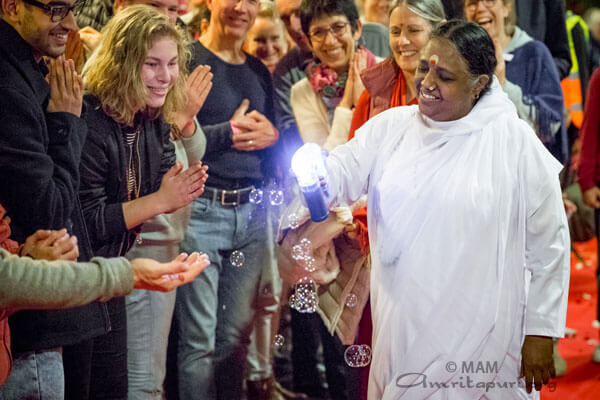 Though the program was held on weekdays, the venue was full to overflowing on all three days. In a beautiful multicultural exchange, the local women devotees of Belgium and the Netherlands played the 'Kai kottikali', a traditional dance form of Kerala, in the traditional attire.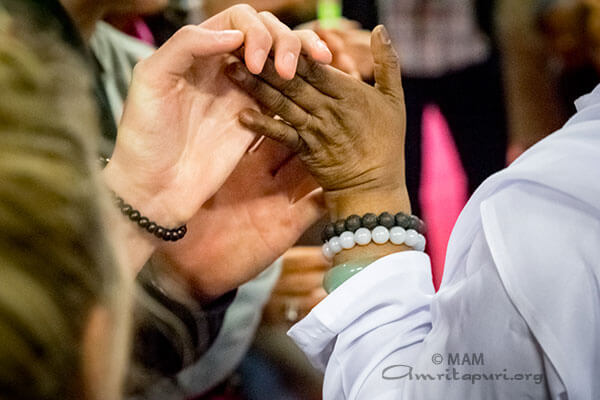 Throughout this year, Amma has been guiding an extended meditation and prayer for divine grace to bring harmony back to our planet, both in the form of restoring nature's balance and in transforming the hatred and anger in the minds of human beings into forgiveness and compassion. Amma guides this meditation as part of both morning and evening programs, before beginning the process of individually embracing each person attending the event. The meditation, as well as Amma's satsang, are always translated into the local language. Thus if one follows Amma around the world, one can hear prayers for peace reverberating in dozens of languages. Here in Houten, listening to the prayers uttered in Dutch, one was reminded that in the wake of Amma's tours, humanity is crying out as in one voice for a more compassionate, harmonious and just world. And touched by Amma's message and her divine embrace, all who walked through the doors of the Expo Houten walk out again transformed, and imbued with love, tenderness and hope they can carry like ripples to everyone they meet. Each of Amma's programs then, and indeed each embrace she gives, is like a stone dropped into a lake, and the kindness and compassion expressed by those Amma has touched are like ripples spreading throughout society.
-Dass