5-15 Sep 2016, Amritapuri
The Ganesh Chaturthi 10-day festival was celebrated in Amritapuri from 5th to 15th September. For 10 days, a beautiful idol of Lord Ganesh, the remover of all obstacles, was displayed at the Kalari and daily early morning Ganapathy pujas were performed. Each evening too, a special bhajans session took place in which many ashramites, visitors and most notably children participated with great devotion and enthusiasm.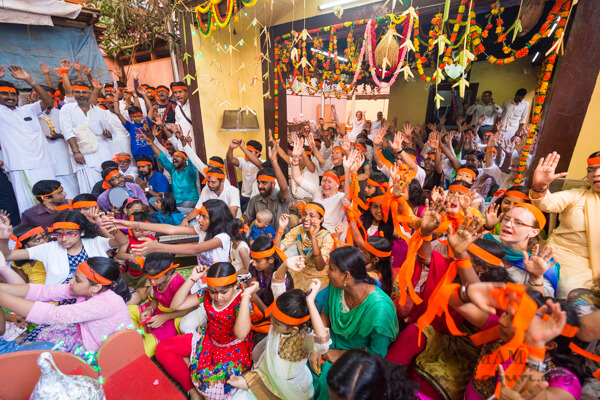 In the morning of the 1st day Ganesh Chaturthi (5th September), a special puja was also performed in the main hall to the ashram elephant Lakshmi.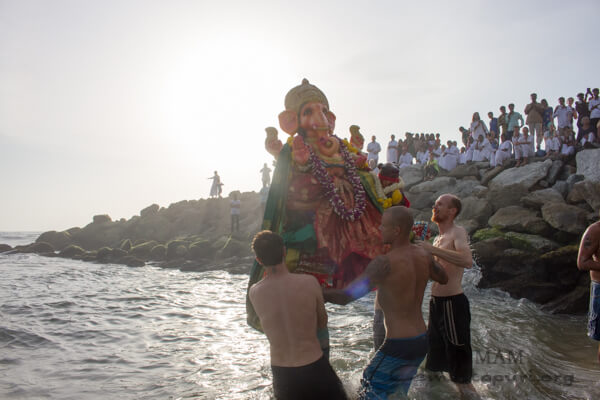 On the afternoon of the last day (15th September), special bhajans were performed at the Kalari, followed by procession carrying the Ganesh idol throughout the ashram. The procession made a long stop in the main hall, facing the stage where Amma was giving darshan. After that, the procession continued towards the ocean. Students, children, ashramites and visitors danced and sang bhajans fervently, praising Lord Ganesh.  Reaching the ocean, the statue was carefully carried into the waters were it was immersed (Visarjan) as per the tradition.  Many children were crying as the idol, which they loved and worshipped is being immersed in the sea. The message in this is that ultimately, all forms have to merge into the formless…
-Tulasi