April 19, 2016, Nairobi, Kenya
It was a very special day for the children of Amrita Watoto Boma, Amma's day school in Athi River, Nairobi. It was a day they had been waiting for for a long time.
160 children, many of whom have been there since the school opened its doors, last saw Amma 5 years ago. Some of them are in the 8th standard now.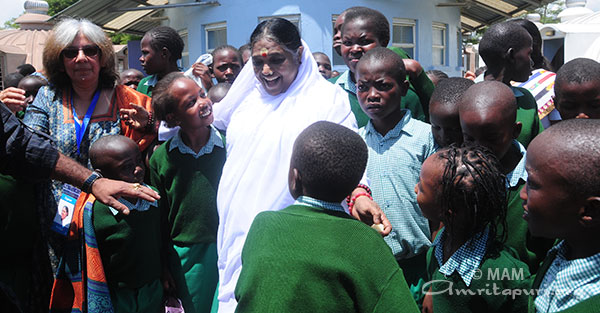 Amma visited the children's home the day after her two days of official programs in Kenya. The children stood in two rows, welcoming Amma with banners and singing Om Namah Shivaya as Amma gently touched their hands and walked towards the hall.
In fact, it was a special day for Amma as well. Already two months back when still in India, Amma had expressed her desire to gift each child with a new set of clothing. Now the day had come. When Amma sat down with her African children, she first gave a gift packet containing a new set of clothing and shoes, as well as candies to each and every child.
Amma moved her chair to sit closer to the children, who started to sing bhajans. They started with Ganesha Sharanama, which they had learned during a 3-day holiday camp. Then Amma asked all the kids to stand up and dance. They sang Kali Durge Namo Namah – everyone around joined in the dancing, it was very beautiful. Amma sang and clapped along to the song and was so happy. Such a beautiful moment, as if Amma had never had been away.
After the dance was over, Amma asked the children what was the first thing they do every morning. The children said the first thing they do is pray. Amma asked them to recite "Lokah Samastah Sukhino Bhavanthu" prayer five minutes every day imagining that peace and happiness descends on all being of the world, all around the globe.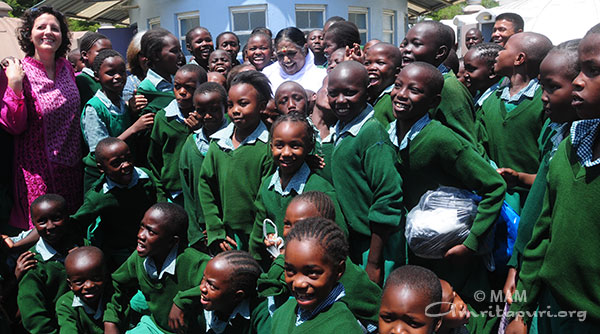 Amma also asked the children about their dreams and ambitions in life. The children's answers varied. Some wanted to become pilots; some lawyers; some singers. Some children even replied that they want to become Amma!
Amma then toured the children's home, inspecting the classrooms and the permaculture garden. She also gave directions for further development of the facility.
This precious memory of Amma's visit will stay in the hearts of the children of Amrita Watoto Boma for a long time.
-Tulasi