25 Feb, Madurai, Tamil Nadu – Bharata Ystra 2016
After the Devakottai public program, Amma held a one day program, celebrating her 21st Brahmasthanam festival in Madurai.
Soon upon her arrival to the city, Amma served a prasad dinner and sang several bhajans with the devotees and the tour group. The next morning Amma came back to the stage and gave satsang sang bhajans and guided everyone in mediation and Manasa puja.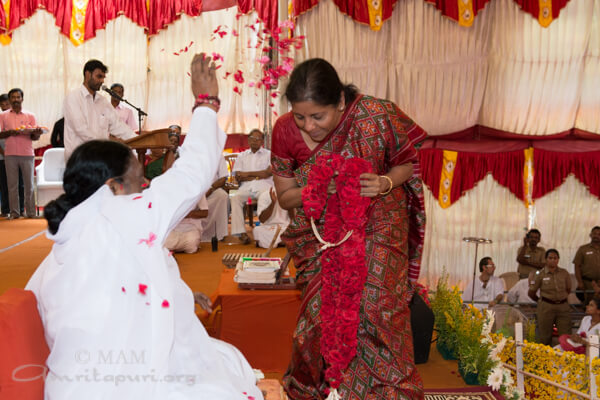 Addressing the devotees, Amma said "It is only natural to make mistakes, but the actions we perform out of anger and impatience can haunt us for the rest of our lives. So, when we get angry, before we impulsively say or do anything, we should take a moment to ask our conscience, "Is what I'm about to say or do right or wrong?" If it is wrong, we should immediately drop the idea.
There may be many things we can fix in the world, but we can never rectify the things we do and say in anger. Those wounds will remain with the people we've hurt, as well as in our own hearts."
Union Commerce Minister Nirmala Sitharam, welcomed Amma to Madurai saying, "Amma doesn't stop just by giving lectures. Along with teachings, she does seva as well. Amma builds free houses to the poor, gives free medical care to the needy. Also she contributes for free education. All these forms of help, come from Amma…Amma embraces all of us as her children. Each of us have got a duty. We need to spread her message to those around us. Also we need to imbibe the seva attitude from Amma. Along with helping our family, we need to offer some service to those around us as well. Today, so many divisive forces are trying to divide the nation into pieces. It is easier to fight an external enemy. But, we have enemies amongst us. It is not easier to tackle such enemies. In this nation, we have beings like Amma who have built this nation by doing lot of sacrifices." She concluded her address by pleading to the the devotees to try to inculcate moral values to their children, build up love for nation and share Amma's teachings with them.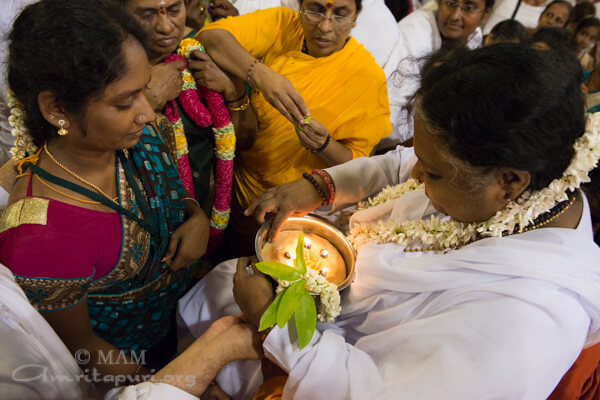 As in the previous years, devotees brought 'Mulapari' (pots of 9 different sprouted grains) to offer to Amma during darshan. The devotees who prepare these pots, do daily prayers and observe certain practices like sleeping on the floor, and only eating after chanting certain mantras for seven days. When they came to Amma, both the devotee and the pot were given a loving darshan, with each plant getting loving kisses. Two of the pots were filled with 'Ma Vilakku' a sweet mixture of rice powder and jaggery with with a lit ghee lamp inside of it which is sign of thanks giving for fulfilling one's wishes.
Amma finished the darshan around 1:15 in the morning the following day, 14 hours after coming to the stage. Immediately after she finished, Amma and the tour group left for the next program in Kanyakumari.
-Kannadi