23 Feb, Devakottai, Tamil Nadu – Bharata Yatra 2016
The journey from Chennai to Devakottai was extremely long and took all day and night. Despite the arduous drive, Amma still took the time to stop with the group for an evening picnic along the way. It was a beautiful scene to sit under the moonlight and share a meal with Amma. Before everyone ate, she explained the importance of adjusting to the situations and respecting others as the embodiment of god. Amma added that its not enough to love and have devotion, but that one has to be compassionate to all beings around them. After sharing this wonderful teaching and dinner, everyone sang a few bhajans before continuing the journey.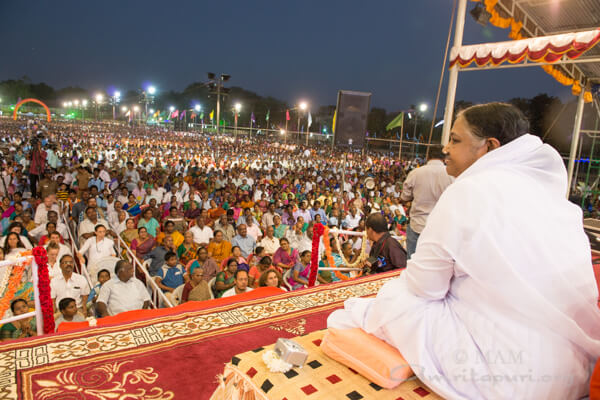 For the very first time, Amma held an evening program in Devakottai. Twenty four years ago she had visited the nearby town of Karaikkudi.
On this night a huge crowd awaited Amma's arrival at the N.S.M.V.P.S School grounds. Amma was welcomed to city by Rtd Supreme Court Chief Justice AR Lakshmana, Railway Board Chairman & BJP General Secretary H Raja and Swami Atmananda of Sharada Niketan Ashram.
During his welcome speech AR Lakshmana said, "This is a very important day for each of us. Though I have participated in many religious functions, I have never seen such a massive turnout anywhere else.
Swami Atmanada said, "Amma in the incarnate of the divine mother Sarada Devi. Amma in the form of the mother is blessing the entire world. Amma sees every being in herself and herself in all beings. This is supreme spiritual state."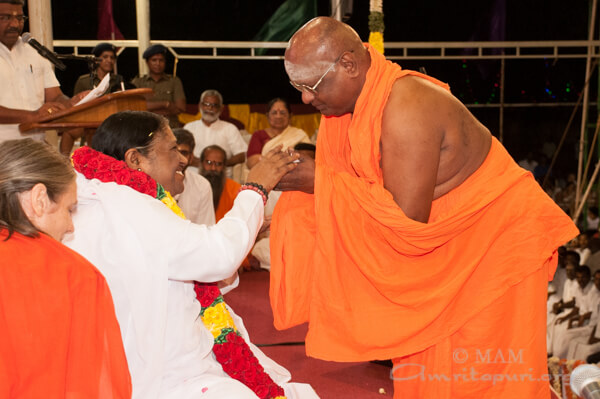 And BJP General Secretary H. Raja added, "Every nation has it's own character…and spirituality is the character of Bharath. Amma spreads the message of Sanatana Dharma throughout this world. Wherever people undergo suffering, she reaches out and graces them."
As Amma began her talk, a beautiful full moon rose above the venue. Speaking on the occasion Amma said "Change is the nature of life. Every day we witness how good and bad things happen in people's lives without any prior warning. Life can be compared to a game. Just as in a game it is often hard to predict what will happen until the very end, so too it is with life. The arrangements are constantly shifting. Until victory is attained, the player must make his moves with care and attentiveness because even the smallest deviation in focus can result in failure."
The massive crowd were all fed dinner and then patiently waited all through the night with faith and devotion for their chance to meet Amma. Many could be seen sleeping at the venue on the bare ground until it was their turn for a hug.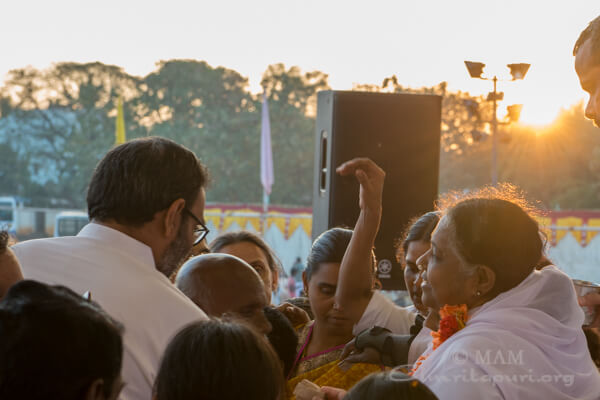 Amma finally finished the darshan close at 9.41 am the following morning, upon which the tour group packed up and headed for Madurai for the next stop on the tour.
Devakottai is known for a unique Siva temple that is without an idol.  In the inner shrine there is only a peetham, (no Siva lingam and no Nandi) the concept being that the presiding deity is supposed to be one's own self in the place of the idol.  This truly vedantic temple helps instruct people that one should go beyond all forms and realize their true self.
-Kannadi