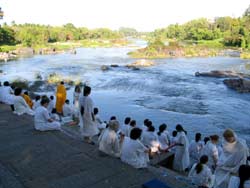 8 February 2005, en route to Bangalore, Karnataka
On the way from Mysore to Bangalore, Amma decided to treat Her children to one more unforgettable moment. In the historic region of Srirangapattanam runs the sacred river Kaveri. It is a place that has been blessed by Amma's presence many times in the past, yet every time with Her seems as new and exciting as the first. Soon after the ashramites and devotees arrived at the bank of the sacred river, they became immersed in the presence of its flowing waters, as they waited eagerly for Amma to arrive and make the moment complete.
Suddenly the word was out: "Amma is coming!" and everybody sprang up to receive Her as if they had been separated for a long time. In truth it had only been a few hours, but such is the force of love that the rational mind has to bow down to it.
Amma came and took Her place amidst Her darling children, enhancing the beauty of the ancient place even further with Her radiance. To everybody's surprise Amma suggested that instead of the usual format of questions-and-answers, where Her children pose questions to Her and She answers them, that they ask questions to each other. For some time this format was followed but no immortal wisdom was to flow before Amma Herself spontaneously joined in. Who knows, maybe it was the ethereal natural beauty of this holy place that prompted Her to dwell for awhile on the relationship between man and nature. She said: "Man cannot exist without the trees, the animals, the sky and the earth. We are an integral part of nature. That is why in India we worship nature, trees, monkeys, etc. There are temples even for so called insignificant creatures like snakes. In Sanatana Dharma the Creator and Creation are not separate entities, they are one and the same. By worshiping Nature we are also protecting Her. We have to learn to live in tune with Nature again and to adjust spontaneously, otherwise like the dinosaurs in ancient times we also will become extinct."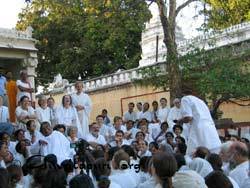 There was no better place to start putting this into practice than right then and there amidst the sacred scenery and Amma's all embracing divine love, a love that truly encompasses all of creation. Looking at Her in the slowly descending twilight She looked like an incarnation of Bhumata, Mother Earth Herself.
Finally Amma burst into joyful song and Her children responded likewise with childlike glee. There was great mirth as one of the ashramites could not contain herself and started dancing rhythmically to Amma's voice. No doubt it was slightly comical yet it was also a beautiful expression of innocence and natural joy of being alive on this beautiful planet.
Life with a spiritual master like Amma is truly a celebration. It is a celebration of life, love and unity.
As darkness descended, the gods must have been joyous to witness a scene that has repeated itself in this holy land countless times; that of the master and disciples enjoying communion amidst a grove of trees by a sacred river.
-Sakshi