29 January 2005, Amritapuri
Amma took the photograph, looked deeply into the eyes of the four-year-old boy it pictured and gently kissed his forehead. She then took the next photo—this one of a girl in pig tails—and did the same. There were around 70 in all, so it took some time. These were photographs of the children who'd burned to death in Kumbhakonam.
It made international news when it happened back in July: 92 children killed and more than 18 severely burned when the thatched roof of a nursery school caught fire in a small Tamil Nadu village.
Now, six months later, Amma's room was packed with the mothers and siblings of these children—140 parents had come in all. Earlier that day during darshan, one of the mothers had become inconsolable in Amma's arms.
She'd lost her son, and now she wanted Amma to turn back time. "Amma! Give me the fortune to see my child once again!" she railed. "Give me the fortune to see my son once again! Amma, I gave birth to him, I brought him up and suffered all the pain, and now he is gone. Give me the fortune to see my child once again, Amma! Give me the fortune to see my child once again!"
Amma held her for some 10 minutes, allowing the woman to exhaust herself in Her arms. The whole time Amma was wiping away both the woman's tears and Her own.
When the tragedy occurred, Amma was in the middle of Her U.S. Tour. When She heard the news, She called Amritapuri and told a group of brahmacharinis to immediately go to Kumbhakonam to pray for the children and to console the parents.
The girls left that day and soon were visiting all the parents, as well as the survivors in the hospital. The stories they heard were heart-rending.
"My son, he came running out of the classroom, but then he remembered that his younger sister was still inside, so he ran back in to get her. But they both died," one mother told them.
A father told the brahmacharinis how before the fire his children had not gone to school for two days. They had wanted to stay home that day as well, but he had forced them to go. "I forced them to go, and because of me, I lost both of them," he said.
Another lady had been widowed while she was pregnant. "My life is meaningless," she cried. "I don't have anyone now."
One mother told the girls that she had only been able to recognize her daughter's body by the anklets she had put on her that morning.
The brahmacharinis chanted Amma's 108 names and the eighth chapter of the Gita as part of the children's funeral rites. They then brought some of the ashes back to Amritapuri, which Amma blessed and offered into the sea upon Her return from the U.S. Tour.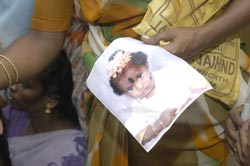 Today, in Amma's room, one of the fathers reminded Amma of the brahmacharini's visit. "Your children came and gave us peace," he told Amma.
"We are still scared," the mother of a boy who was burned in the fire said. "We still have fear in our hearts. The children are scared to go to school. They are scared of fire. Even if our neighbour's light their stove, my son goes and puts it out."
"I am willing to go to school but my mother is not willing to send me," one little girl who'd lost her brother in the fire told Amma.
"I don't want to lose her too!" the mother called out.
Amma told the woman not to worry, that she should send her daughter back to school as it was important for her to get an education.
Amma spoke with the mothers and children for almost one hour, listening to their stories, looking at pictures of their children and wiping the tears of one and all.
-Tulasi