27 September 2009 — Amritapuri
Amma's 56th birthday celebrations took place in Amritapuri on 27 September 2009. Devotees had been arriving at Amritapuri for the past week in order to celebrate the auspicious occasion in Amma's presence. The programs took place in a tent erected just across the backwaters at Amrita Vishwa Vidyapeetham.
The morning began with the conducting of Maha-Ganapati Homa. This was followed by the chanting of the Sri Lalita Sahasranama Archana for world peace and happiness.  Afterwards  Swami Amritaswarupananda Puri arrived at the program grounds, where he gave satsang.
Amma arrived at the program grounds around 9.15, after taking a boat across the backwaters. Upon her arrival, Sri Guru Pada Puja was conducted by Swami Amritaswarupananda Puri. Amma was then garlanded by all of her senior sannyasins.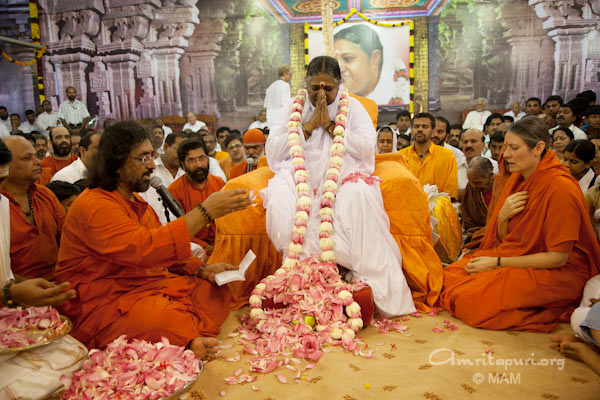 Amma delivered her annual birthday address. Amma said, "There are two important days in our life. The first is the day we are born. The second is the day we realise why we were born. But for many people this second day never comes. They live mechanically from the day they are born to the day they die. We will only be able to appreciate the beauty and magnitude of life when we realise its true purpose. Today, we are squandering our precious powers of thinking and discrimination on insignificant and impermanent things. Once we become caught in this cycle, it is very difficult to get out." She also spoke about cultivating discrimination, the importance of compassion and the effects alcohol is having on modern society.
Upon the conclusion of Amma's address, the 2009 Amrita Keerti Puraskar was bestowed upon Prof. K.V. Dev for his meritorious contributions to spiritual-philosophical literature. The award was presented by last year's Amrita Keerti Puraskar recipient, Prof. Vasudevan Potti.
Next, the members of the Alappad Panchayat Karyogam offered purnakumbam to Amma to the playing of pancavadyam.
As part of its Amrita Sree self-help group program, the Ashram distributed 32 new sewing machines to women forming an Amrita Self-Help Group in Wayanad. These were officially given away by K.C. Venugopal, MP, Alappuzha.
Renowned tantric artist and editor-in-charge of Malayalam Manorama Weekly, K.A. Francis, offered a painting to Amma—titled, Matru Padam Lakshmi Padam.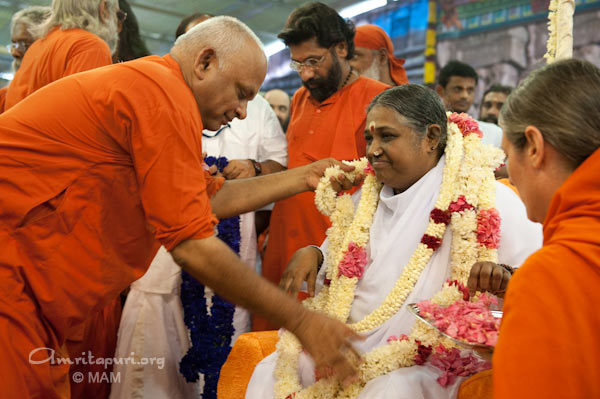 Amma's birthday saw the release of a number of new publications—some by MAM and by outside publisher. Mathrubhumi Press released 'Amma Makkalodu' by Sri Mata Amritanandamayi Devi. The first copy was given to Vellapallai Nateshan, General Secretary of SNDP Union, by K. Gopala Krishnan, former Chief Editor of Mathrubhumi.
MAM released three new books, plus a special Matruvani Birthday Supplement. The first book was Bhagavad-Gita: Garimayum Cila Santvanoktikalum by Swami Turiyamritananda Puri. The first copy was given to 2001 Amrita Keerti Puraskar Recipient Acarya Narendra Bhushan, by Prof. Vasudevan Potti.
The second book was Swami Ramakrishnananda Puri's Atyantika Vijayam, a Malayalam translation of Ultimate Success. The first copy was given to K.C. Narayanan, Chief Editor of Bhasa Poshini, by P.K. Krishnadas, the Kerala State President of the Bhartiya Janata Party.
A new English book by Swami Ramakrishnananda Puri, The Timeless Path, was also released. The first copy was given to C. Dinakaran by former MLA Rajan Babu. The first copy of the Matruvani Birthday Supplement was given to former central minister O. Rajagopal by Swami Pranavananda of Panmana Ashram.
Next, 56 people from the local area took a formal pledge before Amma to spread awareness regarding the dangers of drugs and alcohol. This was followed by a mass marriage for impoverished 56 couples, conducted by Amma, for which the Ashram bore all expanses in terms of dress, gold ornaments and food, etc.
Upon the conclusion of the marriages, Amma began giving darshan to one and all. Cultural programs were performed by students of Amrita Vishwa Vidyapeetham and Amrita Vidyalayams.
watch Padapuja photos from Amma's 56th birthday celebration.