27 September 2006 — Amritapuri
During Amma's 53rd Birthday Celebrations, there was a very precious moment between Amma and Sri. C. Divakaran, the Honourable Minister for Food & Civil Supplies of Kerala.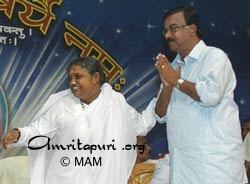 In the speech the minister delivered when inaugurating one of the Ashram's new humanitarian projects, Divakaran said, "The first time I saw Amma, with one word itself, the Embodiment of Love conquered me.
"'I am a Communist. We are atheists,' I told Amma the fist time we met.
"'Son, I have heard that the Party works for the poor. Amma and the Ashram are also dedicated to the upliftment of the poor. Sri Krishna, in the Bhagavad-Gita, addresses Arjuna as sakha.'
"When Amma said that, I decided it was better to escape without arguing any further."
In Sanskrit and in Malayalam, sakha means "friend." It is also the word the Communist Party in Kerala uses as the equivalent of "comrade."
Everyone laughed when the minister recounted this story–including Amma.
—Tulasi