23 February 2005 — Cochin, Kerala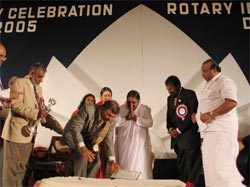 "Who are we to offer an award to Amma?" said C.M. Abu Bakker, the Ernakulam Rotary District Governor. "We simply submit it at Her feet and pray that She blesses this organisation. It is this organisation that benefits from Amma accepting this award."
Amma was being honoured with Rotary International's Centenary Legendary Award for Service to Humanity, International Understanding & Peace at the Le Meridian Hotel in Cochin.
In Amma's benedictory address, She asked Rotarians to come forward and form small aid groups to help people of the lower strata and Kerala's poor.
"Suicide rates are rising steadily in the state," Amma said. "Prostitution may not be as rampant as in other states, but it is there in our state. Tribals of Attappadi and Wayanad are facing severe mal-nutrition, ill health and problems of land-acquisition and alienation. Many are rendered homeless.
"Elderly Rotarians should come forward and form voluntary groups to identify the wants of the poor and spread awareness against social evils. The Ashram will also help them in their work."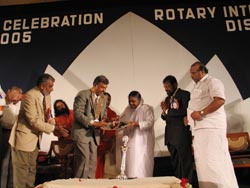 "Ours is a society that is seeking more and more enjoyment," Amma said. "There are many paths open for recreation and pleasure. But we should never forget that only enjoyment that is rooted in samskara [culture/values] will lead to self-development and lasting joy. There shouldn't arise in our country the unfortunate situation where we will have to borrow samskara in the same way that we borrow money from the World Bank."
Amma then told the Rotarians that the solution to the fall in values in society has to be rectified at the level of the family. For this, family members should be more communicative, they should be able to share their hearts with one another. She said that children should be brought up with love in a natural environment and they shouldn't be tainted by the competitiveness and hatred of the adult world.
Speaking about Amma, Rotarian Venugopal C. Govind said that Amma is the embodiment of all the ideals that Paul Harris envisioned for Rotary International when he founded the service organisation 100 years ago.
—Kannadi