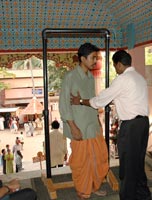 It is the wish of Amma's devotees and disciples to increase security around Amma. After discussions between the Ashram's Board of Trustees, the police have installed metal detectors at the entrances to the temple.
The detectors only slightly slow the flow of traffic into the temple, and the devotees are happy to put up with the small inconvenience. It is clear that everyone just wants Amma to be safe.
During darshan, many devotees have been breaking down in tears as they tell Amma how upset they were when they heard about the attack.
There is also a uniformed security presence throughout the ashram now, as well as uniformed and plainclothes police officers.
"Amma is the most precious treasure of the world," one brahmachari said. "It is our duty to protect her."
–Sakshi