Amma is safe & giving darshan now
21st August 2005, Amritapuri 10.30 p.m.
The large hall was full as Amma began the program for the first Devi Bhava darshan after the US tour. Over 15,000 tokens were distributed for darshan.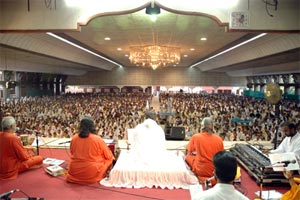 After Amma's satsang, during the 3rd song of the evening bhajans at around 6.15 pm, a man wearing a yellow shawl came onto the men's side of the stage.  He was suspiciously holding something under the shawl, and was walking towards Amma. When asked to sit he refused. As he came behind the chorus and within 10 feet from Amma, one of the brahmacharis confronted him and pushed him to the side of the stage. A small skirmish ensued as Amma continued singing and the man was forcibly removed from the stage. At this point he pulled a knife out from under his shawl.
Once off the stage several brahmacharis and devotees attempted to take the man into custody. In the process of subduing the man, two ashram residents Jitesh and Ramesh were slightly injured. Arun, a devotee from Tiruvalla received a 4-inch deep stab wound (update) on his back and was taken to the hospital. During the skirmish, before the man was taken into custody, two other men from the crowd assaulted the brahmacharis and fled the scene.
Later the assailant was handed over to the police. His identity remains unknown, as he is giving various alias names such as Pavitran, Joseph and various places of residence as Idukki and Palakkad. He told the police that he was "not able to fulfil his mission."
The ashram is looking into the matter seriously.
During the bhajans, Swami Amritaswarupananda wanted to get up and immediately investigate the matter. But Amma asked him to stay and sing. Later Amma explained that She did not want him to act with anger, but wanted him to act with a calm mind.
Amma continued all Her programs as scheduled and is now giving darshan. All the programs are continuing as normal. Amma looks as beautiful as ever in a green sari.
Amma requests all Her devotees around the world not to worry and to be patient and calm.
—Kannadi