10-11 November, London – Europe Yatra 2015
It was a beautiful Diwali gift for Amma's children in the United Kingdom as she arrived at the Alexandra Palace for a two-day programme held on November 10 and 11, 2015.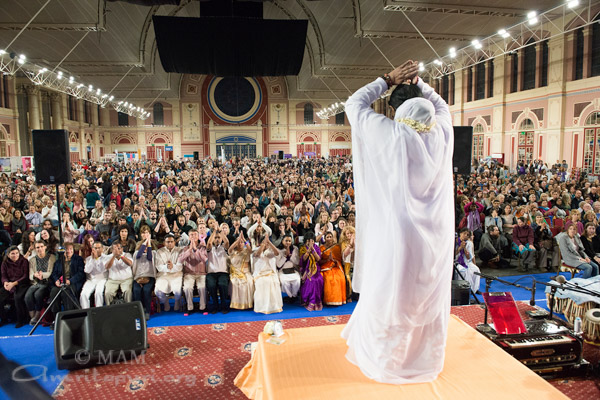 Welcoming Amma to London, Baroness Sandip Verma, Parliamentary Under Secretary of State for International Development and a member of the House of Lords said, "So close to Diwali what better a gift can we ask for than to be in the presence of somebody who only knows how to teach love. In a world where we are completely in turmoil with conflict and pain, Amma, you bring hope and wisdom. Many of us will leave here today knowing that we can also take away a little bit of what it takes to make a better world." Also present was renowned film maker Shekhar Kapur who said, "How can you say a few words about Amma? Actually, it is better to say nothing because Amma is everything, and then she is nothing because she can become nothing whenever she wants. There is no description that anybody has ever been able to find for the description of the infinite except to say is that 'it is.'So all I can say about Amma is that, "Amma is… Amma is love.."
Baroness Verma also released the first copy of the English version of the book; "Amma's Pearls of Wisdom" which is a collection of Amma's beautiful quotes for 365 days in a year and handed over the first copy of the book to Shekhar Kapur. The Ambassador of Mexico to the United Kingdom, Diego Gomez Pickering, was also present on the occassion and also invited Amma to visit Mexico.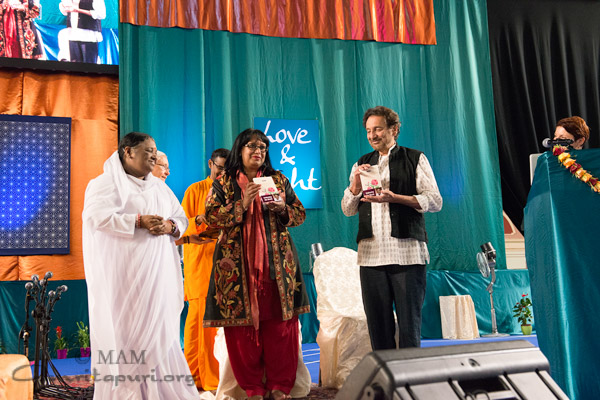 Devotees thronged the venue from all parts of the United Kingdom on both the program days.
During Amma's darshans, there was a whole range of cultural programs ranging from Indian classical music, Taiko drumming from Japan, Western classical to pop music, which really added to the celebration. The devotees of Amma in the United Kingdom also presented a beautiful 'Ras Garba'dance of Gujarat to the accompaniment of Amma's bhajans.
The stage was lit with lights for the Diwali celebration, and Amma reminded Her children, "Just like these lamps lit on the stage, if we can light the lamp of faith and love in our hearts and walk forward together, then we definitely can dispel the darkness that we see around and bring about a change in society.
-Kannadi