10 January 2003, Rameswaram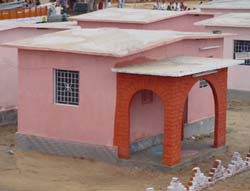 Amma's programme at this legendary island off the eastern coast of India is being held at Her newly constructed housing colony here. Part of Amma's Amrita Kuteeram project, keys to 108 new homes, were given to homeless families this evening in a special ceremony. Sri Vidya Sagar Rao, The Honourable Minister of State for Home Affairs, was on hand to give an inaugural address and to share with Amma in the presentation of the keys. In his speech, he noted that while 45 billion rupees of foreign fund comes through his office for various religious organisations charitable projects in India, Amma's institution is the only one to ensure that the money reaches the lowest strata of the society completely.
Mata Amritanandamayi Math takes the credit for utilizing their foreign funds for the sake of the poor to the fullest effect.
The housing colony, Amritapuram, has a beautiful view of a Shiva temple said to have been consecrated by Sri Rama. In fact, Rameshwaram is home to many artifacts from Sri Rama's life according the great epic Valmiki Ramayana, including the hill from which he surveyed Lanka before rescuing his beloved Sita from the rakshasa (demon) Ravana.
"Amma's institution is the only one to ensure that the money reaches the lowest strata of the society completely."
It is said that in order to reach Lanka, Sri Hanuman (a monkey, and the greatest devotee of Sri Rama) led a group of monkeys in carrying large stones into the sea to form a bridge across the water. Many of these stones can still be seen extending into the sea.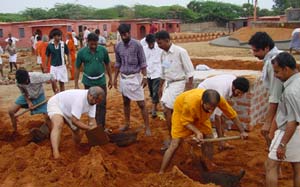 Today, the programme site bustled with activity as ashramites, visitors, and local volunteers all pitched in to put the finishing touches on the village, begun less than sixty days ago. They formed long chains to pass stones into a small pond that had filled in a construction ditch, recalling the devotion and vigour of Sri Rama's monkeys as they built the bridge to Lanka.
Earlier this year, Amma's initial goal of building 25,000 houses was surpassed. Her new goal for Amrita Kuteeram is to build and freely distribute 100,000 homes for the homeless over the next ten years. As an extension of Amma's Amrita Nidhi project, 500 new pensions were also given this evening to destitute women in the impoverished Rameshwaram. Sri Pon Radhakrishnan, India's Minister for Sports and Youth was on hand for the presentation.
Amma gave darshan to 12,000 people before the night was over.