8 January 2003, Sivakasi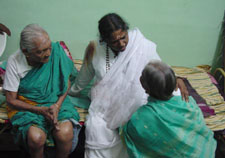 Do you ever wonder what Amma does after finishing darshan? In Sivakasi, after finishing darshan, Amma headed straight for Anbu Illam, Her care home for the elderly located there. She reached the place at 4.30. Even at that late hour, She took time to greet the residents who had been eagerly awaiting Her arrival.
They were all dressed in their finest clothes, as they were hoping for a group portrait with Amma. It must have been a blissful moment for the residents, who have come to Anbu Illam because they have no one at home to care for them, or because they have been neglected by their relatives, or simply out of their love and devotion for Amma and their desire to live out their golden years in a spiritual atmosphere.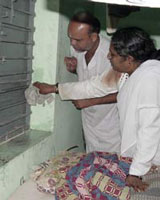 But even after Amma met personally with each of the home's residents, She did not see fit to retire to Her room. Her sari still stained from giving darshan to 10,000 people that night, She began visiting the resident's rooms, tidying up here and there. Overall the rooms were well-kept, but Amma found one room that was not very clean. She scolded the man who is in charge of cleaning the resident's rooms, saying that the residents have no one to look after them, and to look after them is service to God.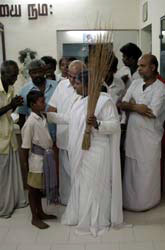 Amma then took up a broom, bucket, scrub brush and other cleaning supplies and spent nearly an hour showing the man exactly how the work should be done—brushing cobwebs out of the corners, dusting, mopping the floor, cleaning each bar on the safety screen over the windows, scrubbing clean the track in which the window slides. In the process, Amma cleaned this resident's room until it shone with the love and care She had lavished upon it.
What does Amma do after giving darshan? Without taking even a moment's rest, She goes on giving: loving, serving, teaching—always by example—working tirelessly for the upliftment of the whole world.
Only after travelling for several hours, stopping to serve lunch to Her children, giving satsang, singing bhajans, giving darshan to 10,000 people, attending to even the smallest details of the tour's logistics, visiting Her care home and finally cleaning it, did Amma go to Her room. Except that by then, it was already morning, and another day had begun.