15 August 2004 — Amritapuri
"Bharat is the spiritual centre of the world, its spiritual heart," said Swami Jnanamritananda on the evening of the 57th anniversary of India's independence. "Bharat is not just a handful of sand. It is the Mother. Just as a mother feeds her child from her breast, so too this Mother Land nourishes her children through her culture."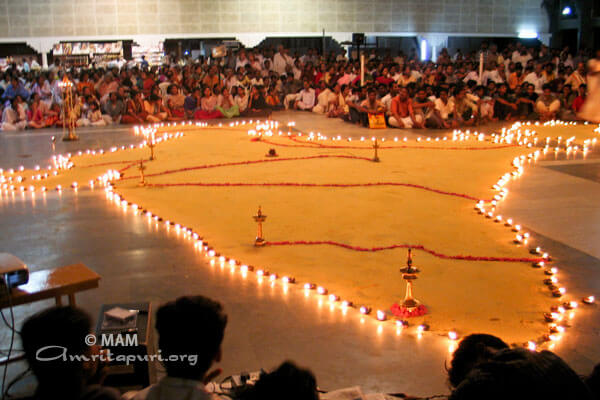 Four the third year in a row, AYUDDH, the youth wing of Mata Amritanandamayi Math celebrated India's Independence Day by conducting Matrupujas throughout Kerala and at its main centres throughout the country. For Matrupuja, or "worship of the Mother," children perform padapuja [worship of the feet] to their mothers, as well as participate in the worshipping of sands gathered from holy sites throughout India—including Amma's Amritapuri Ashram.
Explaining the essence of Matrupuja, Jnanamritananda Swami said, "Even if a child gives hundreds of thousands of rupees to his mother, it will never equal what the mother has given to that child. A child can only pay his mother back by prostrating at her feet and washing them with tears of love.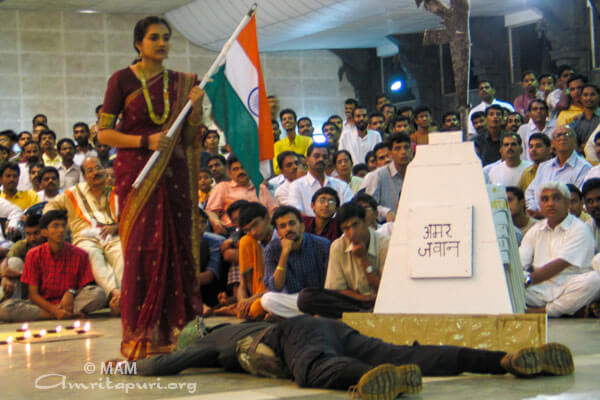 "Today, we find more and more children putting their parents into old-age homes. It is our tradition that children should see their parents as their gods. The mother gives birth, so she should be respected.
"We have the children perform this puja so that we can maintain the harmony in the family. If the family has harmony, so will the society. If the society has harmony, so will the nation. If the nation does, so will the world."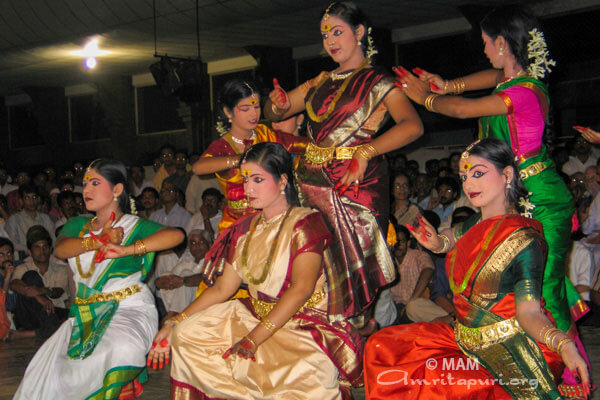 For the last one and a half hours of Amma's Independence Day darshan, students from the Amritapuri campus of Amrita University performed a dance to "Mahishasura Mardini,' and created a map of India on the darshan hall floor with small oil lamps defining its borders and lines of flower petals forming its seven sacred rivers. They also participated in the cleaning of a near bye government hospital at Amma's suggestion.
—Tulasi