12 August 2004, Amritapuri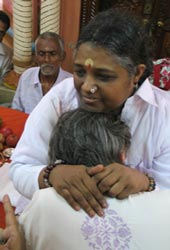 Today Amma's children at Amritapuri were treated to an unusual sight: Amma giving darshan wearing a white oxford shirt over Her sari. One can often see Amma's brahmacharis wearing these collared, button-down shirts, but Amma Herself?
Today a poor, elderly man named Kumara Khandaswamy from Tamil Nadu came for Amma's darshan. He gave a small package to Amma. Amma opened the package. Inside was a new white shirt and dhoti. Amma immediately put the shirt on over Her sari and continued giving darshan. What was the story behind this anomaly? Ten months ago, the man's friend gave two new shirts and two new dhotis during a festival. As it was his custom whenever he received something to to offer it to Amma before accepting it, he took one of the sets of new clothes, wrapped it nicely and kept it in his puja room in front of Amma's photo. There it stayed until he had a chance to come to Amritapuri today. Amma said that seeing his innocence, She spontaneously decided to wear the shirt.
In the photo you can see the collar of Amma's new shirt. Behind Her is seated Kumara Khandaswamy, wearing his matching set.
— Sakshi