Bharata Yatra 2004
21 March 2004 — Lucknow, Uttar Pradesh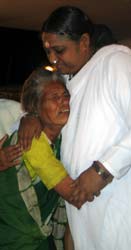 Amma arrived in Lucknow just before dawn this morning, marking the beginning of the final phase of Bharata Yatra 2004: three one-night programs in the cities of Lucknow, Varanasi and Durgapur and then two in Calcutta.
This part of India is so rich with history. Lucknow, the capital of Uttar Pradesh, was originally named Lakshmanapur, after Lakshmana, the younger brother of Sri Rama who founded the city thousands of years ago. It is situated only a few hours drive north of Ayodhya, the kingdom of Sri Rama. Tomorrow, Amma will be driving to Varanasi—the city of Lord Shiva, considered by many to be one of the holiest places in India.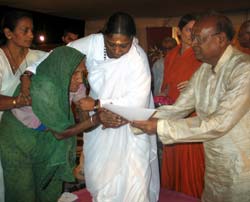 The Lucknow program took place on the spacious greenery of the Kolvin Talukadar College, under a cool, open sky. The chief guest was Shri. Revati Raman Singh, the Honourable Minister of Transport, who both spoke and helped Amma distribute certificates for free homes in the area as part of Mata Amritanandamayi Math's Amritakuteeram project. Other dignitaries gracing the dais were Lucknow's mayor, Dr. S.C. Rai; Shri. Vidyasagar Gupta, MLA; and Shri. Suresh Srivastav, MLA—all of whom helped distribute pension checks to destitute women of Lucknow, as part of the Math's Amritanidhi program.
As Amma finished each of the night's bhajans—including "Sri Rama Bolo Ram"and "Lalitamba"—the devotees would cheer, saying, "Bolo Amritanandamayi Devi Ki Jai!"
—Sakshi