Bharata Yatra 2004
Especially during Amma's programs held in metropolitan areas, many curiosity seekers come to see what all the commotion is about. Among them are dozens of street children—kids from 12 to 2, in rags, with runny noses—many of who often wind up joining the darshan queue.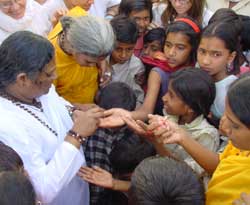 When they come to Amma's lap, they get their hug, their kiss—maybe even a laddu—and then they are off on their way.
But, often, you will soon find them in the queue a second time. Maybe the smart ones have somehow snuck back in the line past the point where the brahmacharis are collecting tokens—perhaps even squeezing their way through the jostling legs of VIPs.
So, one more kiss, one more toffee, one more laddu—and a heavenly smile. Why doesn't Amma ever ask these children, "Second time?" No matter how many times they come, She never seems to mind.
---
Amma's 2004 program in Prabhadevi, Mumbai drew more than 30,000 people and continued until past 9:00 a.m. As soon as the sun rose, dozens of the area's street kids, started racing about with boxes and old sacks, trying to collect as much plastic trash from the ground as possible—discarded chai cups and used plastic water pouches. They earn money this way, selling what they collect to recyclers.
After the program finished, Amma started driving away in Her car. Although to the street children the trash is so valuable, when they saw Amma's car driving through the park grounds, they threw down their sacks and boxes and came running. Many devotees were lined up along the path of Amma's car, though, and the children had difficulty getting through. But Amma saw all this and had the car stopped. She then told everyone to let the children up to Her window. With eyes beaming with compassion, She smiled at them, reaching out to stroke their arms and to squeeze their dirty hands. It was only for a moment, and then Amma's car continued on. But what an effect that moment had on those children; they seemed unable to believe what had just taken place. They forgot about their work, and simply sat down where Amma's car had been, many of them crying.
---
Little Feroz of Kolkata is another street kid whose heart has been stolen by Amma… By the time the disciples and devotees traveling with Amma reached their accommodations in downtown Kolkata, it was almost 1:00 in the morning. The streets were dark and dreary and quiet. As the road-weary travelers alighted from the buses, they were welcomed by some of the local coordinators—and one child in rags. But he was not the usual street kid angling for money. No, he was greeting everyone by saying, "Nomoh Shibaya," in a typical Bengali accent and asking everyone about Amma.
"Is Amma coming here?" he asked. "Will She be giving darshan here?" Little Feroz, obviously an urchin from the city streets, was eagerly waiting for Amma. He had first met Her a few years before at a program held nearly two kilometres from the accommodation.
Amma's love for the poor does not stop at providing food and shelter. She opens their hearts, something ordinary philanthropists don't even think to try.
—Tulasi