13 May 2005 — Trivandrum, Kerala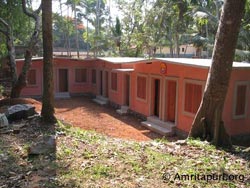 On the first night of Amma's Trivandrum Brahmasthanam Festival, Amma handed once again handed over keys to houses. But these keys were given not given to the poor, but to the government. The 10 homes were constructed to serve as much-needed halfway houses for patients of the Mental Hospital of Trivandrum.
Many times when people are released from such hospitals, they do not have anywhere to go, especially when family members are no longer interested in supporting them. These houses, which are for all purposes an additional ward of the hospital, provide both homes and a community for people who no longer need the 24-hour-a-day monitoring of a psychiatric ward, but still are taking medication. The houses have been built in two blocks, five houses for men and five houses for women.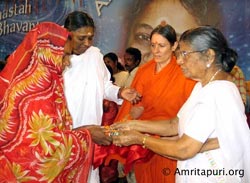 Amma handed the symbolic key over to the Health Minister of Kerala, Sri. K.K. Ramachandran Master, who then handed it to Dr. Jayram, the Superintendent of the Mental Health Centre of Trivandrum. Also on the dais were Sri. K. Mohan Kumar, MLA and President of the District Congress Committee; Dr. B. Mahila Mony, the Director of the District Health Department, and social worker Sri. P. Govinda Pillai.
Sri. Govinda Pillai is a well-known political thinker and for years has been a key spokesman of the Communist Party of India (Marxist). "I do not follow any religious rituals and beliefs," he said. "But what Sri Mata Amritanandamayi Devi does for society, I find worth appreciating. The mental patients are not given adequate care under the government machinery. I came here to express my heartfelt support to Amma for her acts of compassion and kindness."