Ashram Lays Foundation Stone for Tsunami Housing Project
11 May 2005 — Alappad Panchayat, Kollam District, Kerala
The foundation stone for the houses Mata Amritanandamayi Math is building for tsunami-affected people in Alappad Panchayat was laid today at 8:00 a.m by the district collector of Kollam, Sri. B. Srinivas.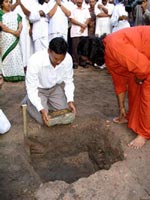 The Kerala government has allotted 1,200 houses to the Ashram for reconstruction in Alappad Panchayat [this number is continuing to increase as time goes on and the government continues to allot more and more houses to the Ashram]. This is in addition to the 200 houses allotted to the Ashram for reconstruction in the districts of Ernakulam and Alappuzha. The Ashram has already completed rebuilding the houses in Ernakulam, having handed them over to the district administration on 11 April. The construction of the houses in Alappuzha is in progress.
After brahmacharis of the Math performed a foundation-stone puja, the vice chairman of the Math, Swami Amritaswarupananda, welcomed the gathering.
Sri. Vijayakumar, the deputy collector; Mrs. Maniamma, Tehsildar of the Karunagappally taluk; Mrs. Leelabhai, president of Alappad Panchayat; Mrs. Kasturi and Sri. M.V. Shaji, members of Alappad Panchayat; and various office-bearers of the karayogam were also present.
–KaliCharan