Onam is a Time of Joy, Love, Kinship & Devotion
August 28th 2015 — Amritapuri Ashram
The following has been extracted from Amma's Onam message.
Onam is a festival of unity and sharing. A festival takes place when our heart overflows. Onam is a time when joy, love, kinship and devotion overflow. The breeze of Onam starts caressing us as soon as the Malayalam month of Chingam starts. In fact, people begin to feel joy even in the final days of Karkitakam. The rays of the sun start piercing the clouds in the sky. Flowers everywhere start smiling. Butterflies start flitting about. There is only joy everywhere. Here, we share that joy and love with others. Happiness increases when we share it with others.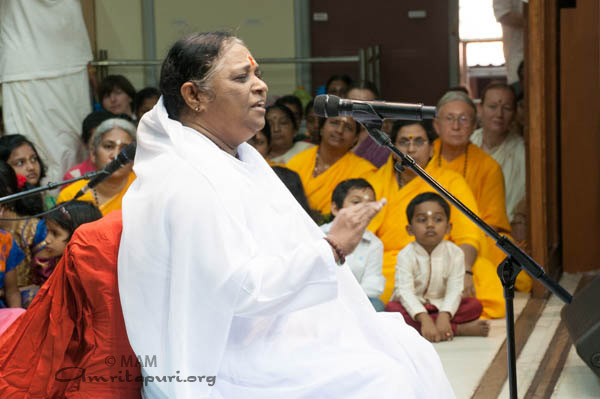 All of us rejoice when the month of Karkitakam ends and Chingam begins. Karkitakam is a time of spiritual practice and austerities when we stay home and worship God. While the earth bathes in the monsoon, Keralites bathe in the Ganga of Wisdom that is the Ramayana. Sometimes, without thinking we may curse the rains of Karkitakam, but we must never forget that it is only because of the torrential rains of Karkitakam that we have the flowers and harvests of Chingam. Moreover, it is the month of rain that helps us to appreciate the following beauty of Nature. This shows us that behind every celebration lies a period of sacrifice and austerity.
All of us are experiencing our own little pains and sorrows in life. Nevertheless, amidst all these, we still usher in Onam with joy. How is it possible? Happiness is a decision. If we so decide, we can create an empire of happiness. This is because happiness is our true nature. The lamp of happiness is ever aflame in our hearts. We must take care not to block this light with the closed curtain of our desires.
Happiness is a decision. If we so decide, we can create an empire of happiness. This is because happiness is our true nature. – AMMA
At present, climatic patterns are changing. It is becoming hotter. There is less rain. The seasons are becoming erratic. In order to live in harmony with Nature, one should love all beings. One must uphold dharma. Dharma used to be the very heart of Onam. Our estrangement from our culture of dharma is the reason for all these irregularities. In the past, people were content with what they received. They were able to find contentment in small things. This is the very message of Onam—the message of sacrifice, simplicity and charity.
The story of Mahabali is also a tale of sacrifice and austerity. It is only because of Mahabali's self-sacrifice and surrender that he is still remembered today. Each year, we welcome him along with the Lord. Even though Onam actually is the day when Lord Vishnu incarnated as Vamana, we think of Mahabali more than the Lord. This reveals the greatness of devotion and sacrifice. However, initially, there were flaws in Mahabali. He thought all of his accomplishments were exclusively due to his effort. Having such an attitude is like allowing salt to fall into milk; it ruins any sweetness. It is the Lord's duty to save His devotee from such a predicament. In the end, Mahabali was discerning enough to realize his folly. With this realization came total surrender. His life also teaches us that we must realize our own follies and strive to correct ourselves.
After he had surrendered everything, all that Mahabali asked the Lord was that he be able to see his subjects happy. Mahabali's love was not confined to words. He did not have any selfish ulterior motive. Such love is very rare in the world today. Many speak loving words but their intentions are impure.
We have heard it sung that during the time of King Mahabali's reign, all people were considered equal, but that equality was not merely external. It indicates an internal equality—an equal vision that comes from knowledge. External circumstances will constantly change. Happiness will alternate with sorrow. We should try to cultivate an attitude of equanimity and acceptance.
As Onam approaches, we usually see the liquor sales soaring. The Kerala Government's ban on liquor is a good step. However, this ban will only become effective and complete when there is an internal change in man.

In olden days, Onam itself was our intoxication. However, today, so many people get drunk on Onam that they consider that to be the bliss of Onam. People in Kerala annually consume more liquour than those in any other state. Alcohol is destroying our health as well as our relationships. If the person drinking is from a poor family, the family is financially ruined.
Onam celebrates the memory of a past golden age. We also have the hope that such a golden age will return in the future. However, what happens when we get into the celebratory mood of Onam? We forget both the past and the future and live completely in the moment. In fact, life exists only in the present moment. The present moment is our only wealth. We should strive to properly utilize it, with awareness and alertness. Whenever we do this, the spirit of Onam will immediately awaken within us. Any memories of the past we have should awaken only positivity in the present. This means that we should try to remember only positive things people have done for us. Remember how they may have encouraged us or helped us. Try to draw energy from such memories and live in the present moment. What is essential is to make the present moment meaningful. If we do this, our life will naturally be filled with new sprouts, flower buds, blossoms and fruits. Happiness and prosperity will pervade. The spirit of Onam will be there for us every day.
Onam is a symbol of external and internal beauty. Happiness and beauty will be present only in a mind that is devoid of negative emotions. Therefore, may the shadow of negative emotions such as hatred and sorrow leave our minds. Instead, let our minds be filled with the golden light of love and happiness. Let the dark clouds of poverty and conflict lift, and let the world awaken to a new dawn of peace and prosperity. In this way, let the true message of Onam spread all across the world. May Onam be continuously celebrated in the mind of humanity. May the Paramatman, shower grace for this to happen.