5 – 7 November, 2001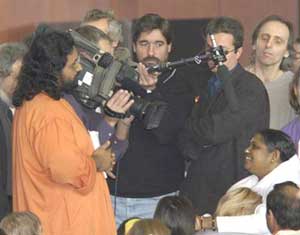 Newspaper interview with Amma in Barcelona.
The interviewer commented that Amma has come to Spain, which is a bastion of Christianity.
Amma replied that She has not come to convert people but help them to delve deeper into their own religion.
The devotees gathered in the stadium for Amma's satsang before the evening bhajans. The stadium was situated next to the Barcelona waterfront beach, with a beautiful view of the sea nearby.