5 October, 2001
Racing boats cruising through the water, paddles splashing vigorously, sending droplets flying through the air like silver beads, and tumultuous cheers by thousands of viewers lining either shore of the Kayamkulam backwaters, transported the villages of Vallickavu and Parayakadavu into a great mood of gaiety and festivity.
After prayers for invoking God's grace, the festival began with the hoisting of the flag by Shri Kadavur Sivadasan, Kerala Minister for Electricity, who in his address said that Amma, by showering the rain of compassion, is creating a revolution in the world: a revolution of ethical values, material progress, and spiritual uplift.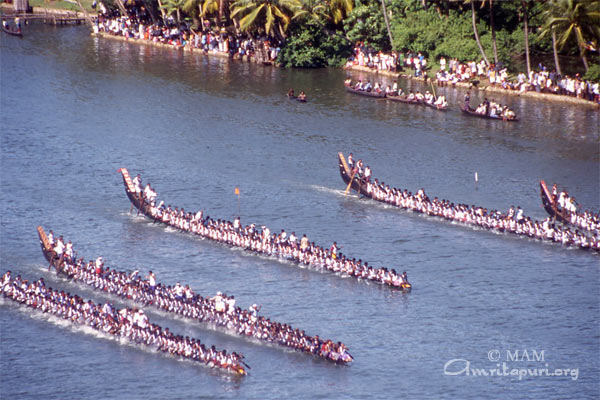 Shri O. Rajagopal, the Central State Minister for Railways, then formally inaugurated the Jalotsav by lighting the lamp. In his speech, he said that this is a true festival, wherein jubilation combines with cultural values, a befitting tribute to Amma on Her birthday.
Shri K. Sudhakaran, Kerala Minister for Sports said that Amma is scattering spiritual and temporal blessings all over the world.
Before the commencement of the race, the more than 1,000 crew members brought their boats together and waved their oars through the air in various ways in perfect unison, thus revealing the sense of unity underlying the competition.
The "Amritanandamayi Jayanthi Jalotsav", a 1.2 kilometre-long race, finished at the colorful pavilion constructed at the boat jetty on the Ashram grounds, with the race's starting point being the Sri Krishna Swami Temple in Kuzhithura. Twenty-one racing boats of various types from different parts of South Kerala had gathered in the backwaters to participate in the event, while dozens of spectator boats of all sizes and varieties lined the waterway, creating a beautiful scene.
As the announcer's voice boomed instructions, with a wave of the flag the competition began, with nine snake boats (long, thin canoes each holding approximately 100 rowers) cruising through the water at high speed in three separate 'heats', the crews paddling hard and fast in perfect synchronicity, while men standing at the back of the boat used giant paddles, digging into the water with all their energy. It was obvious from the intensity of their effort that each team was striving with all their might to make the coveted Amritamayi Trophy their own.
After all nine snake boats had completed the course, races were held with four smaller boats, known as veppu vallams, followed by a race of iruttukutti boats. After that came races with female crews. Swimming skills displayed by Syam Prabhodhini formed the charming interlude.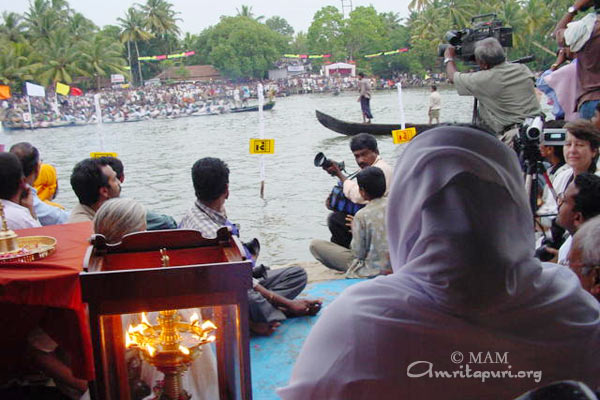 This was followed by a colourful procession in which boats depicting legendary stories from the Puranas served as literal "floats" in a charming parade.
Distributing the trophies and congratulating the winners, Amma said, "Such sports and healthy competition is not in-congruent with spirituality, for any aspect of living can be made spiritually uplifting, provided it is performed in the right spirit and with the right understanding."