26 September 2005 — Alappad Panchayat, Kollam District, Kerala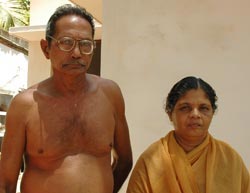 Tears of joy rolled down the cheeks of Ravi and his wife Ammini Amma, as they stood in front of the new house that Amma's Ashram had built from them. This is in Azhikkal, where the tsunami devoured 86 lives, including two of Ravi and Ammini Amma's grandchildren.
Standing before her new home, Ammini Amma recalled how the events unfolded after the disaster took place last December. "Amma sent medicine and doctors to the sick and injured. Serious cases were referred to AIMS [the Ashram's super-specialty hospital in Ernakulam]. This was followed up with pension for ladies," Ammini Amma said.
"For four months, Amma fed us, providing food to our doorstep," said Ravi. "Most importantly, Amma built a house for us so that we could rebuild our lives. For us, Amma's birthday is a bigger celebration than Onam. We will be with Amma, partaking in Amma's anna-danam [prasad meal]. Now for us, everything is only Amma. This is one of the happiest moments of our lives."
On 27 September, the Ashram will distribute keys to 550 houses to families who lost their homes in the tsunami.
Another couple from Alappad Panchayat who will be receiving a free tsunami-relief house from the Ashram is Baby and his wife, whose house is adjacent to the entrance of the Amritapuri Ashram. After recounting the gruesome event and Amma's healing touch thereafter, Baby says, "It is impossible to conceive that any organisation would do as much as Amma has done for us. I don't have words to express the gratitude that our family has for the benevolence of Amma during these trying times." Baby added that, as he lost his brother in the tsunami and his wife injured her leg–which has yet to completely heal—the experience would have been unbearable, but for the phenomenal efforts of the Ashram.
Echoing similar sentiments was Sudhi, another recipient of one of the Ashram's tsunami-relief houses. She said that only Amma's Ashram was willing to put in the necessary effort for the necessary duration of time to build homes and lend a permanent helping hand to the people in distress.
—KaliCharan