26 September 2005 — Alappad Panchayat, Kollam District, Kerala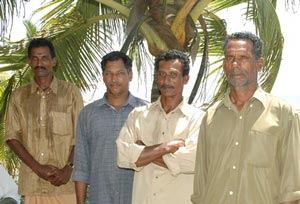 On 26 December 2004, they lost everything. For generations their families have been maintained through fishing. Never did they dream that in one day their means to that income could literally be washed away. But that's exactly what happened when the tsunami wrecked their fishing boat and nets.
After the tsunami, Thankan, Dushadhan, Senan, Vimalan, Bose and Krishnan were left with no resources or recourse whatsoever for gainful employment. "We first turned to the government, but their priorities were not clear," said Thankan. "Many voluntary agencies promised to help, but none kept their promises. Finally when we met Amma, she assured us she would help. We don't have any words to thank Amma, because Amma did what even the government could not do."
"Amma has been giving to all without any favouritism," said Bose. "She is giving to the really needy, whereas we are not sure whether the government aid has gone to the right people."
Tomorrow, on Amma's birthday, this team of six fishermen will be given a fully equipped motorised fishing boat and new nets. In fact, a total of 150 fishing boats will be handed over to tsunami-affected fishermen during Amma's birthday.
When asked if they had decided upon a name for their new boat, the team members smiled and hinted that it would be "Amriteswari."
—Tulasi