26 September 2005 — Azhikkal, Alappad Panchayat, Kollam District, Kerala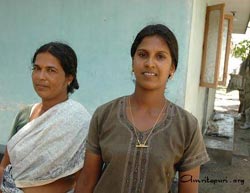 Ramya, the daughter of Ravindran and Rajila of Medayil House in Azhikkal, was beaming with joy. She is one of 51 women who will be married in the Ashram's mass marriage taking place tomorrow on Amma's birthday.
Only a few months back, Ramya's mother was heartbroken and distraught. There house had been ravaged by the tsunami, leaving her only with an ailing husband and two vulnerable children. In her distress, Rajila turned to Amma for assistance in getting her daughter married.
"I had no resources. I didn't know where to stay," says Rajile. "I narrated my sad story to Amma, and I was overjoyed when Amma comforted me and promised to arrange everything."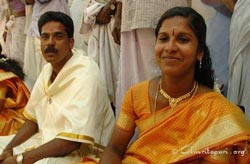 Ramya will marry Thambil Vallial, a fisherman based in Trivandrum, alongside 50 other couples.

The Ashram is paying for the expenses for all the couples, including their gold ornaments, wedding dresses and a family feast–at cost of Rs. 45,000 per couple.
"We will remember Amma's special love forever," said Rajila and Ramya.
—KaliCharan