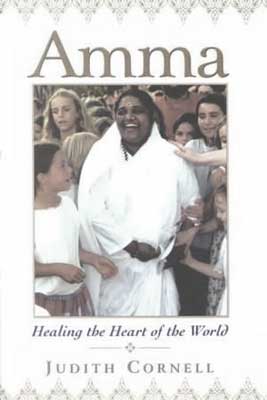 An American devotee, Judith Cornell, has written a biography of Amma for mainstream publication throughout the world. In addition, Judith will be on a very highly rated and very highly watched TV news/talk show in the US called "The Today Show" on 10 July, to talk about the book and Mother. 'Amma, Healing the Heart of the World', by Judith Cornell, PhD, was released on 22nd May, 2001 in Seattle. (Publishers – William Morrow)
American author, Judith Cornell presented her newly published biography of Amma to the beloved Satguru Mata Amritanandamayi. Amma accepted, blessed and offered the book to the world.
'Amma, Healing the Heart of the World'
It is a heartfelt and revealing biography of One inspired to alleviate the sufferings of humanity. The book tells the story of Amma's life in a new way. Drawing upon archives made available by Mother's ashrams in America and India as well as upon personal interviews with people such as Amma's own birth parents and nuclear physicists, this unusual biography helps western readers, perhaps less familiar with Indian thought and culture, come closer to an understanding of "the hugging saint". 'Amma, Healing the Heart of the World' is a moving tribute to an inspiring life and an awesome spiritual force.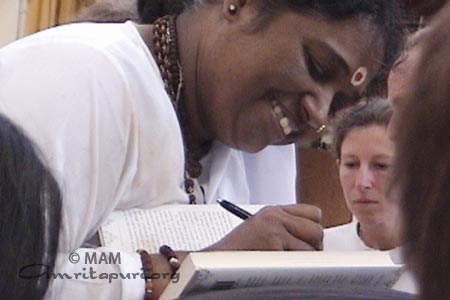 Don't be surprised if you see shots of Amma autographing the biography. For the new biography is already available in bookstores across the country.
It is also, of course, in the bookstall at Mother's programs, which is how it happens that frequently during darshan Mother is to be seen autographing it.