19 January 2001, Madurai to Chennai
Amma departed from Madurai immediately after Devi Bhava darshan at about 8:00 a.m. A long day of travelling was to follow for the long caravan of ashram buses and vehicles. Yet the magic of travelling with Amma is not so much the moving, as it is the stopping. All of the ashramites were blessed with the first such stop at lunchtime under the veranda of a small roadside temple.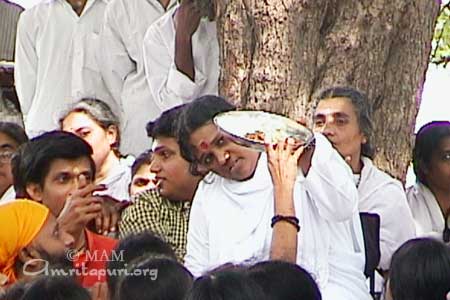 After sitting with all her children and singing bhajans in a very informal, joyful mood, Mother served lunch to all, one by one. A funny incident happened as Amma began serving the food
Many of the ashramites have their names painted on their plates, so as not to lose them. As Amma passed the plates, she kept stopping to read the names, both Indian and Western, to everyone's delight. "Eckhard, Melissa, Paul, Amma's Jani…," she called out. But as soon as someone asked Amma how she could read the Western names printed in Roman letters (being only familiar with the Malayalam script), Amma suddenly stopped. There was a mischievous smile on her face. But she kept serving the food.
Several hours later the ashram road train pulled over again as the sun was setting. This time in a more serious mood, Amma began to ask questions and a satsang developed. Amma explained the importance of sincerity in our spiritual practices. She said that often we may feel dejected because it seems that no progress is being made. She asked us to think about how often we are introspective and take time to examine how much progress we have really made, to see how much we have changed since we came to spirituality.
Amma then told a story from the Ramayana.
As the satsang ended the sun had nearly set and Amma and all her children welcomed the night sky by joyously singing bhajans. Finally after a quick dinner all climbed back aboard the buses to finish the journey to Chennai. Like all other days travelling with Amma, this was one to remember.