14 January 2001, Chennai
Chennai (Madras), one of the cinema capitals of India, has large cut-out photographs of film stars. A centre of political activity, it sports larger-than-life cut-outs of political leaders, too. Among the cut-outs towering above the crowded streets of Chennai, this year there were those of Amma – the one at the entrance to the Ashram showed Amma holding her hands above her head as in prayer, in the humble greeting one makes to God. It is the very same gesture Mother makes whenever she steps onto a stage and greets the crowds: She raises her hands in this prayer, and then humbly prostrates to the Divine in each of her children.
Mother was greeted by enthusiastic crowds upon her arrival at her Chennai Ashram, where she would hold a four-day Brahmasthanam programme. Early the next morning, after three archanas [traditional chanting of the Divine Mother's thousand names], she arrived at the stage for bhajans, satsang, meditation, and darshan. This is the pattern at Amma's Brahmasthanam Festivals – the morning programme with darshan running until late in the afternoon, then more archanas and an evening programme, with darshan sometimes lasting until nearly dawn, when the cleaning and setting up for archana begins.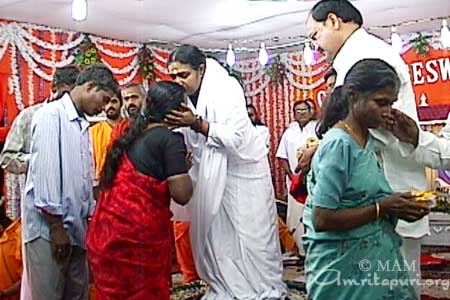 Sri Venkaiah Naidu, the Union Minister for Rural Development, who had flown in from New Delhi, received the keys from Amma and handed them over to the fortunate individuals who would be moving from hovels (if any shelter at all) into the simple but adequate homes that Amma's "Homes for the Poor" programme is providing all over India.
The audience cheered as each recipient approached Mother for her blessing, and then Sri Venkaiah Naidu, who handed them their keys to their new homes- their new lives. There were elderly women, bent old men, a young mother with her child, a blind man, and a man so crippled that a friend had to carry him to Mother to receive her embrace. Even for people familiar with Amma's project that provides housing for the destitute, there is nothing to compare with seeing the very individuals whose lives are so touched – seeing their reverence, love and gratitude for she who is giving them such hope. One woman prostrated so long at Mother's feet in her thankfulness that someone had to help her rise. These are the humans behind the statistics; in their presence, our hearts naturally open.