Bharata Yatra 2004
19 February 2004 — Bangalore, Karnataka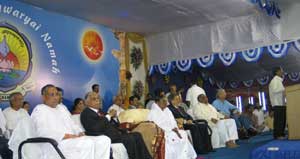 The first of three days and nights that Amma is giving bhajan, satsang and darshan at Her Bangalore Ashram were brought to a start on Thursday in the presence of the Honourable former Chief Justice of India, Padma Vibhushan Shri. M.N. Venkatachalaiah; the Honourable Standing Justice Shri. S.R. Nayak; Karnataka's Honourable Minister for Revenue, Shri. H.C. Srikantaiah; the Honourable Venezuelan Ambassador to India Shri. Walter Marques; and the Vice-Chancellor of Bangalore University, Shri. M.S. Thimmappa.
The evening began with all the dignitaries garlanding Amma, addressing the assembled thousands and inaugurating various new charitable activities of the Mata Amritanandamayi Math.
Twenty-six certificates to free homes in the Hirisave Village of Karnataka's Hassan District were given to destitute homeless couples as part of the Math's Amritakuteeram Project, the Math's programme of giving away 100,000 homes across India within 10 years. The certificates were distributed by Minister Srikantaiah, who then said of Amma: "The world is blessed by Her presence. Let Her have the strength and power to continue with Her work."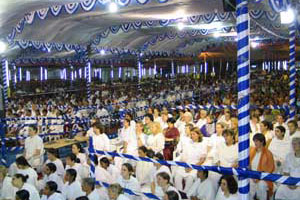 The Math also inaugurated two new health centres in Karnataka: one in Kasavanahalli and one in Ullal. These centres of free and subsidised healthcare were given auspicious beginnings when Amma handed over their inaugural medical kits to centre doctor Nanjundeshwara. The centres were inaugurated by former Chief Justice Venkatachalaiah. In his address, the former chief justice said, "Wherever Amma goes, She explains the truth and the hidden love of each religion."
Justice Nayak announced the participation of various Karnataka advocates in the Math's recently inaugurated free legal cell of 1008 lawyers, Amritakripa Neeti Pratishtan.
After Vice-Chancellor Thimmappa received the first copy of this year's Bangalore Brahmasthanam Festival Souvenir from Amma, he proclaimed, "A great person is born in each age to solve the troubles of mankind. This is Amma's age."
Amma then gave satsang and sang bhajans, including several in the local language of Kannada. She gave darshan upto 5 a.m. the next morning.
—Tulasi