Bharata Yatra 2004
Wednesday, 18 February 2004 — Mangalore, Karnataka
Twenty-two hours sitting; 50,000 tokens issued—the numbers speak for themselves.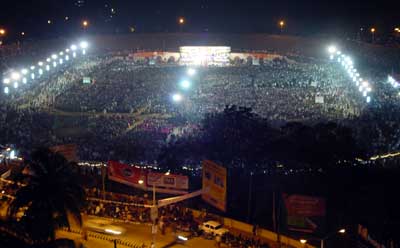 "One more hour. She will finish it up in another hour." Everywhere you turned, this is what you heard—in the bookstall, in the accommodation, on the stage itself. One first started hearing such speculations around 9 a.m. Wednesday morning, a point in time where Amma had already been on stage for more than 14 hours straight, a point in time when more than 30,000 people had already received Amma's darshan. But then it was 10 a.m. and you still heard it—11 a.m., 12 p.m., 1 p.m., 2 p.m., 3 p.m… Amma finished at 4:30!!
For Amma's sake, some hoped that the program looming in Bangalore the next day would cause things to end a little early. But then the rumor started spreading from the stage, "Amma says She will finish everyone, even if She has to sit through the next night."
Typically, from Amma's point of view, the sacrifice was all Her children's. "They were waiting for so long without sleep—in the sun—just for two seconds with me," Amma said later.
The sun—usually it's not so much of a problem at Amma's non-Brahmasthanam program, as Amma typically starts darshan at sunset and finishes the next morning. But in Mangalore—as the sun was only a few hours from setting for the second time when Amma finally finished—the devotees in the darshan queue really had to bare its full glare. Some had been waiting for more than 20 hours to receive Amma's blessing. However, Amma was on top of the situation and ordered some of Her brahmacharis to erect tarpaulins in order to create some form of shelter.
There was also the issue of food. With the crowd so much more massive than expected, supplies ran out by midnight, but still people waited patiently and peacefully, most of who had never met Amma before. "There were no problems with the crowd, " said a senior police official.
"In India, sometimes political rallies will get this kind of a crowd," said one of Amma's senior brahmacharis, "but that is for one or two hours. Amritavarsham was something—no doubt—but then people were coming from all over India, from all over the world. This was from one district!"
In fact, the people just kept coming and coming—literally, nearly 100,000 people came to the stadium at one point or another to see Amma. They were even coming the next day, prompted by newspaper and cable-TV reports that Amma was still giving darshan. Wanting to make sure these latecomers also received a form of Her love, Amma blessed several boxes of prasad and had ashramites distribute it among the thousands who'd arrived during the final hours of darshan.
When the darshan finally concluded, Amma simply stood up, raised Her hands over Her head in pranam to Her children and walked down the stairs to the car. The next program was waiting 360 kilometers away in Bangalore.
People who don't know Amma often say: "Yes, but does She do any miracles?" If the change Amma has wrought in the hearts of millions during the past 50 years is too subtle a wonder for such doubters, perhaps they can at least recognize the superhuman in what took place in Mangalore — embracing 50,000 people, speaking words of comfort to 50,000 people. Those who have eyes to see, let them see it.
—Sakshi