5 – 7 November 2000, Barcelona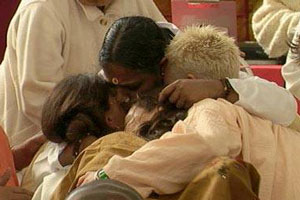 Bidding au revoir to France, the tour moved on to Barcelona, Spain. Spain has become known for its large, enthusiastic crowds. There was a lot of media coverage throughout the tour, but it was especially impressive how many reporters came to see Amma in Barcelona. Local and national newspapers, magazines and various radio and television stations all wanted to interview and photograph the 'Incredible Hugging Saint from India', as one devotee called her. By the end of their interviews, all of them wanted to experience Amma's darshan as well!
As in France, a large percentage of people were coming for darshan for the first time ever. For long-time devotees, it is priceless to see people's expressions of awe and reverence as they meet Mother for the first time. Watching the heart-warming smiles that appear on the faces of newcomers, we see how Amma is uplifting thousands, one at a time. Amma's darshan went very late in the day, and again at night, so that Amma got only a tiny break between endless darshan lines.