14-15 April, Nairobi, Kenya
Six years after Amma first visited Kenya, Amma returned for her first official programme. Treated as a state guest, she was accorded a warm welcome by Kenya's previous Vice President, His Excellency Hon. Mr. Moody Awori. Amma held a press conference where she explained about her service projects in Kenya. During the conference, Amma was flanked by Masai tribesmen, who came to express their gratitude for Amma visiting Kenya. Rangers of the Kenya Wildlife Service brought in an adult cheetah that had been orphaned two weeks after birth. Amma spent some time with the cheetah and petted it.
The public programmes were held in the SSD Temple. The crowd consisted of a diverse mix of cultures, tribes, religious groups and nationalities. Upon Amma's arrival, traditional dancers presented a welcome dance full of joy and enthusiasm. Amma was officially welcomed to Kenya by the Indian Deputy High Commissioner, Dr. Ketan Shukla, who refelected, "I am sure that with Amma's coming, peace will prevail in Kenya."
The renowned advocate and human rights defender Dr. P.L.O Lumumba delivered a rousing speech, highlighting Amma's humanitarian work and the blessing Kenya was receiving through her visit. He shared the following sentiment to thunderous applause: "Seldom in the history of this country do we have a personality such as this. We come to celebrate and acknowledge a personification of love; we come here to ask ourselves whether there is love in our hearts. I know that all religions believe in Avatars of God, I suspect Mama (Mother) that you are such an avatar. Your selfless desire, your selfless action in finding 54 young Kenyans, whose parents, whose mothers and fathers you do not know and to decide to help them is your greatest testament and commitment to man."
Ms. Naomi Cibi, Managing Director of Kenya Film Corporation, also welcomed Amma and thanked her for all the social service she has already inspired people to do in Kenya. Ms. Cidi commented, "I have been watching what she has been doing around the world and she has only one message: Love and compassion."
Masai tribeswomen then bedecked Amma with their traditional blue and white, beaded regalia, crowning her as an elder of their tribe.
Amma's biography in Swahili was released from Deputy High Commissioner Shukla to Dr. Lumumba.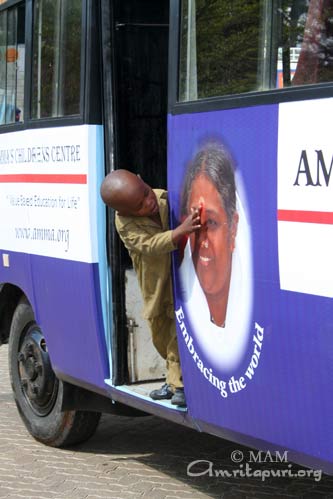 Children from the Kabete Children's Home, an orphanage where Amma's devotees have conducted weekly feedings for the past 5 years, welcomed Amma to Kenya, by singing her bhajan "Amma, Amma, Amma".
Amma inaugurated Amrita Watoto Boma, or Amrita Children's Home. Spread over 11 acres on the banks of the Athi River, this orphanage will ultimately be home to 108 children, providing them with shelter, food, education and healthcare. During the inauguration, Amma distributed new sets of clothing and school supplies to the first 54 children (between the ages of 6 and 14), who are now staying at the orphanage.
After Amma's spiritual discourse and bhajans, the day's cultural programs including more devotional singing by the children of Kabete Children's Home, as well as various Indian dances.
On the second day of the Nairobi program, Amma was welcomed by High Court Justice Kassanga Mulwa, and the Brazilian Ambassador to Kenya, Ms. Ana Maria Sampaio. Amma launched the second of her new humanitarian projects in Kenya, a scholarship program for 54 children across the country. On this occasion, the first 20 of the 54 students received their scholarship certificates from Amma's hands. The scholarship of 24,000 shillings per student will be enough to cover their educational expenses for a full year.
Members of the Kenya branch of Amma's international youth organization, AYUDH Kenya, donated the first books for the library at the orphanage. During the programme they received Amma's blessings for seeds to plant in the orphanage vegetable garden, and brought a number of tulasi plants for Amma to bless for Green Friends Kenya.
After Amma's spiritual discourse and devotional singing, there was a cultural performance from the Maringo area of Nairobi, where AYUDH members had recently come together with local youngsters to conduct a cleanup day. Along with the drums, dance and singing, a group of young acrobats, Zam Zam, performed amazing stunts onstage.
The highlight of the cultural programs was a spectacular performance by Eric Wainaina, a UN Ambassador for Peace, regarded by many to be Africa's top musician of the day. Mr. Wainaina had met Amma 7 years ago for the first time and says he is very inspired by her.
After the day's darshan was over, Amma visited a dome that had been on display before the hall, to show how the structures will look at the orphanage site. Amma gave a lot of detailed instructions about how to manage the orphanage, including ameliorations to make to the structure of the beds.
Before leaving Nairobi, Amma visited a small local hospital. There she visited the maternity ward and kissed the newborn babies.
– Tulasi
watch photos