AYUDH Mumbai organized a blood donation camp in association with Pooja blood bank of Mulund for thalassemia patients camp on 25th January 2009. More than 50 units of blood was collected for this noble cause.
Thalassemia is an inherited blood disorder that causes the body to produce less hemoglobin. Low levels of hemoglobin may cause anemia, an illness that makes you feel weak and tired. Severe cases of anemia may damage organs and result in death.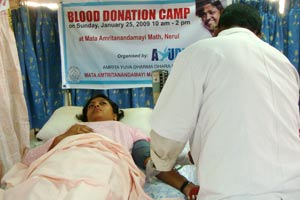 People with severe anemia (beta thalassemia major) usually will not live into adulthood without treatment. If the child starts receiving blood transfusions early and continues to receive them throughout life, he or she is likely to live longer.