14 February 2009, Kozhikode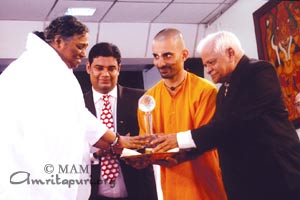 Amma was presented with Junior Chamber
International's highest honor, the 'Shanti Swaroop' peace award.
Amma was presented the award by Vallabh Das, Chairman of the Junior Chamber International Peace Award Foundation.
The citation was read aloud by the president of JCI Calicut Chapter,Jaygopal Chandrasekharan.
In his speech, Jaygopal Chandrasekharan said that Amma was selected for the award because she championed the causes of peace, love, spiritual freedom and justice among humanity amidst strife over caste, creed, color, language and gender.
Accepting the award Amma said "As far as Amma is concerned Her children are her award. Amma accepts the award as a symbol of the dedication and love of the Jaycees towards Amma. Amma wants to rededicate this to her beloved children. But the true award to Amma would be if all of her children would make some space in their hearts, have some compassion for those who are suffering in the world. If that were possible we could make this earth into heaven."
Santosh Kumar (JCI's national vice-president) and Jayadhir (zone president) were also present on the occassion.