Cambodia, 12 February 2009
Br. Shantamrita Chaitanya attended "Giving Global Voice to Eastern Wisdom," a Hindu-Buddhist Summit organized by the Global Peace Initiative of Women. The Summit was held in Phnom Penh, Cambodia, and was co-chaired by Sangha Raja Bour Kry of the Kingdom of Cambodia and Swami Dayananda Saraswati.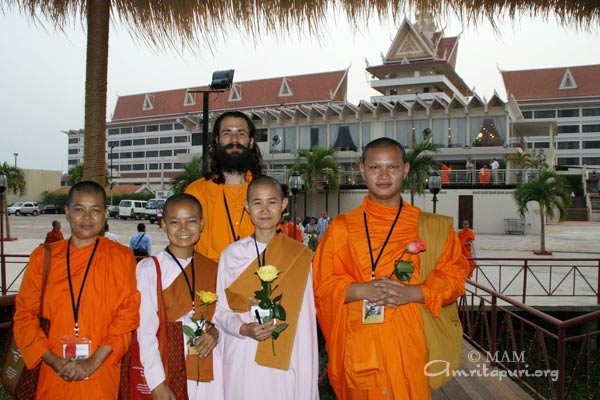 The stated aim of the Summit was to invite the voices of Hinduism and Buddhism to play a larger role in the ongoing global religious dialogue so that the values and principles of the Eastern traditions can help guide the world community to a more peaceful and sustainable way of life.
The Summit was attended by dozens of representatives of both Hindu and Buddhist traditions, as well as all the other world's faiths, hailing from many nations including India, Japan, Vietnam, Thailand, Cambodia, Uganda, USA, Myanmar, Bangladesh, and Sri Lanka, among others.
Br. Shantamrita was invited to speak on the subject, "Bringing Eastern Wisdom to the World Forum." Having served as Amma's disciple for nearly 20 years, Br. Shantamrita spoke in light of his own direct experiences while bringing the unique perspectives, deeply held values and profound insights of Amma and her Ashram to the table of religious leaders and representatives gathered in Phnom Penh.
In his remarks, Br. Shantamrita pointed out that most pressing issues of our time arise from various forms of imbalance, and that the holistic, integrated worldview of Hinduism and Buddhism makes them uniquely positioned to effectively address these issues and restore balance to society. In answer to the question of how to ensure that the voices of Hinduism and Buddhism are heard in the world's discourse, Br. Shantamrita pointed out this discourse plays out mainly in the fields of knowledge-based industry. Thus he advocated a course of creating and strengthening mainstream institutions in the fields of education, academics, publications and mass media so that Hindus and Buddhists can play a more active role in how they are defined by the world at large.
– Das
View photos here.